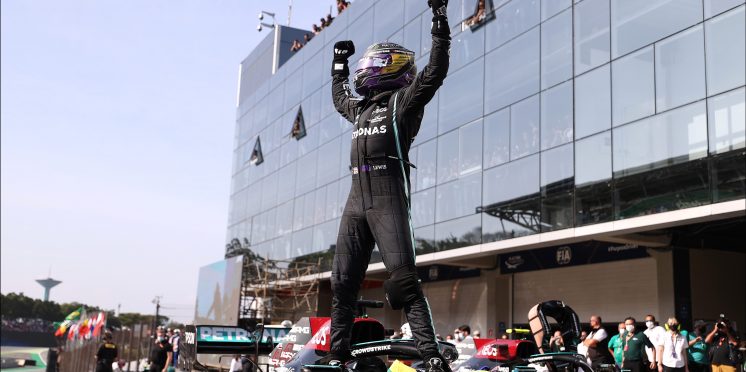 Hamilton: Brazil victory feels like first after 'hardest weekend'
Lewis Hamilton says his comeback victory in Sunday's Sao Paulo Grand Prix "feels like the first" after what he calls the "hardest weekend" of his Formula 1 career.
Hamilton fought back from his qualifying exclusion to charge from last place to finish fifth in Saturday's sprint race, that saw him line up 10th on the grid for the main grand prix due to an engine change.
The Briton quickly gained places in the opening laps, and by Lap 19 was up to second place and in hot pursuit of race leader Max Verstappen.
After both made their second pitstop, Hamilton hunted Verstappen down and attempted to pass the Red Bull driver around the outside of Turn 4 but was pushed wide.
At the same corner 11 laps later, Hamilton was able to complete the move and stormed to his sixth win of the season to cut Verstappen's lead in the drivers' standings to 14 points.
"Coming into this weekend, I never ever thought that we would be able to close the gap like we have today," Hamilton said.
"And then these things, they just kept going against us. But I think it really shows, for everyone, just never give up whatever you're facing. You have just got to keep pushing, keep tumbling away, keep fighting, and never, never stop fighting.
"That's really how I approached this week and [took] inspiration from all around.
"But it feels like the first because I don't feel like I have had a win for a long time."
Hamilton's Mercedes team-mate Valtteri Bottas joined him on the podium despite slipping to fourth from pole position within the first five laps, allowing the team to build an 11-point cushion over Red Bull in the constructors' championship.
Reflecting on his recovery drive after being left devastated by his exclusion from qualifying, Hamilton felt it had been his toughest weekend since making his debut in 2007.
"The team did an amazing job, Valtteri did a great job today to get as many points as possible," Hamilton said.
"I was pushing. I was pushing as hard as I could. But from last on the grid and then another five-place penalty was I think the hardest weekend I've had.
"But my dad reminded me of 2004, when I was in Formula 3 in Bahrain, and I started last and I finished 10th, and I finished first. So this one is for my dad."
---