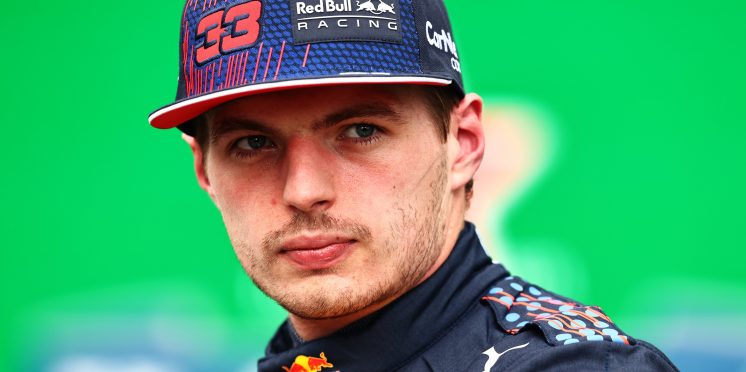 Verstappen handed €50k fine for parc ferme breach, Hamilton excluded over DRS infringement
Max Verstappen has been handed a fine for breaching parc ferme rules by touching Lewis Hamilton's car after qualifying on Friday for Formula 1's Sao Paulo Grand Prix.
Verstappen was ordered to see the stewards on Saturday morning after a video surfaced of him inspecting and touching the rear wing of Lewis Hamilton's Mercedes after qualifying.
The hearing took place at 9:30am with Verstappen accompanied by Red Bull's sporting director Johnathan Wheatley.
Following second practice at Interlagos, the FIA confirmed Verstappen has received a €50,000 fine for breaching Article 2.5.1 of the sporting regulations.
Article 2.5.1 reads: "Inside the Parc Ferme, only the officials assigned may enter. No operation, checking, tuning or repair is allowed unless authorised by the same officials or by the applicable regulations."
After speaking with Verstappen and analysing the fan footage, as well as the onboard camera, the stewards acknowledged it was "a habit for drivers" to inspect cars of rival teams but was clear it did breach parc ferme rules.
They also noted there was "insignificant force when Verstappen touched the wing" on Hamilton's car, but felt action needed to be taken in the case of a fine.
It added the fine "is intended that all teams and drivers take notice that future breaches may incur different penalties from the Stewards of those events."
As a result Verstappen won't be demoted from his second place grid slot, but will instead inherit pole position after championship rival Hamilton was disqualified from qualifying over a DRS infringement.
The seven-time world champion qualified fastest in Brazil, but a post-session check revealed his car had not complied with F1 regulations.
A hearing was adjourned until Saturday in order to gather more evidence over the incident, before it was announced Hamilton had been excluded from the results and would be forced to start the sprint race from the back of the grid.
While Mercedes argued its rear wing has passed FIA tests all season and said there was no intent to breach the rules, the stewards – despite considering if it was migrating circumstances – said it "could not extend this argument to cover parts that were found out of conformity in post session checks with no obvious reason in evidence other than considering normal running at this event."
The bulletin added: "The Stewards agree with the Competitor that this is something gone wrong, rather than an intentional act or design but did not find there to be mitigating circumstances.
"Further, Art 1.3.3 of the International Sporting Code states that 'it shall be no defence to claim that no performance advantage was obtained'.
"Therefore, the Stewards order the usual penalty for technical non-compliance of Disqualification from the qualifying session."
The outcome has a huge impact on Hamilton's title hopes having already taken a five-place grid drop for an engine change. Hamilton will be demoted five places from wherever his finishes in the sprint for taking his fifth ICE of the year.
It offers Verstappen a golden opportunity to extend his 19-point lead over Hamilton in the drivers' standings, with a maximum three points up for grabs in the 24-lap sprint event.
---