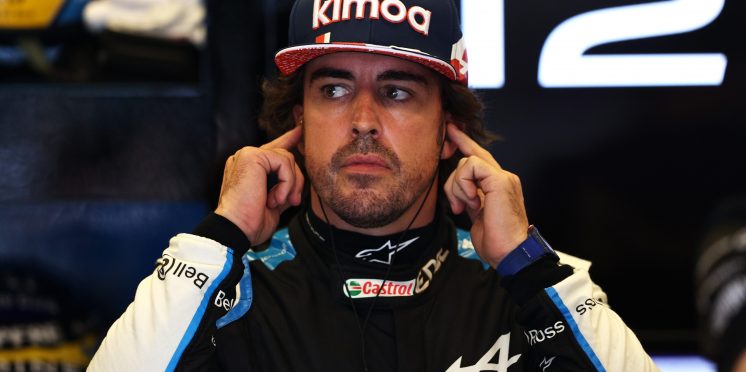 Alonso calls for F1 to follow football's example in enforcing strict rules
Fernando Alonso believes Formula 1 needs to follow football's example by applying strict rules in relation to penalty offences.
Alonso has once again called into question the FIA's consistency when it comes to handing out penalties after being left frustrated when Kimi Raikkonen escaped punishment at the United States Grand Prix.
Raikkonen attempted to pass Alonso on the outside at Turn 1, running outside the perimeter of the track to gain the position that left Alonso calling for the Finn to hand the place back.
But the stewards felt penalising Raikkonen wasn't necessary as Alonso had forced him wide, which frustrated the Spaniard who didn't understand why similar incidents were judged to be in breach of F1's rules.
The matter has led to questions over whether F1 should clarify what is and isn't allowed when battling on track.
Asked if F1 needed to be more clear on its guidelines, Alonso said, as quoted by Motorsport.com: "No, I don't think that we need anything. The rule is very clear.
"We just need to put in place the rules. I think when you go in football, and you take the ball inside the area with a hand, it is a penalty. So there is no clarification of the rule [needed].
"You just need to take the decision and say that this is a penalty. Because if not, everyone will be inside the area with the ball in his hand.
"We don't need any modification. We just need to implement the rules when it [an offence] happens."
When speaking about the Raikkonen incident, FIA race director Michael Masi said the call to not penalise the Finn was "marginal'.
Masi is planning to discuss the matter with drivers at the next race in Mexico, to define what is deemed acceptable and not acceptable in wheel-to-wheel combat.
Alonso has previously suggested that the FIA has different rules for different drivers having felt some of his rivals had got away with offences that others has received a penalty for.
The double world champion used his deliberate track limits violation in Russia as an example of inconsistent stewarding.
Asked if there is greater inconsistency when it comes to the FIA making decisions now, Alonso said: "I guess so, because it depends who does it.
"I think in Sochi, I missed Turn 1, and in Turkey, Thursday, it was a hot topic.
"Here, with not forcing people [wide], there were like three cars in Turn 1 going out [of the track limits], by their own decision.
"So let's see if in Mexico it is a hot topic, or it is just all fine, because Fernando didn't make any off track [moves]."
---