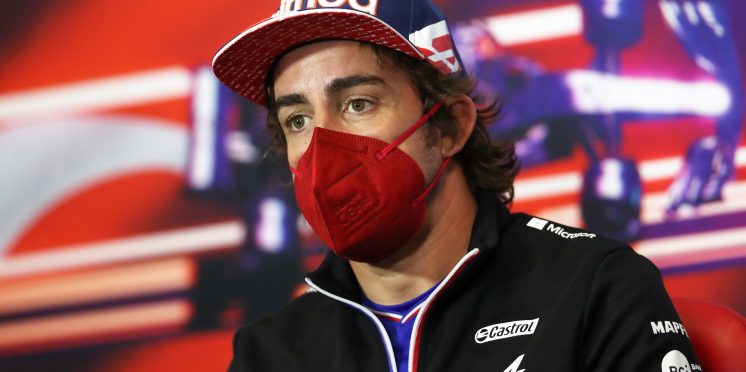 Masi responds to Alonso F1 stewards bias claims
FIA race director Michael Masi has responded to Fernando Alonso's claims that Formula 1 stewards are bias towards certain drivers, insisting there is no favouritism when applying penalties.
Alonso has voiced his frustration this season at the stewards' lack of consistency, and is particularly irritated over the matter of drivers leaving the track and gaining an advantage.
The Spaniard was not impressed that no action was taken when Daniel Ricciardo overtook him off track in Austria and didn't understand why Lando Norris escaped a penalty for crossing the line on pit entry at the Russian Grand Prix.
This led to Alonso calling out race control over its fairness when stewarding ahead of the Turkish Grand Prix last week, believing "there are different rules for different people."
The Alpine driver, who admitted to intentionally going through the run-off area on the opening lap in Sochi, said he did it to prove the stewards approach certain incidents differently depending on who the driver is.
When Alonso's comments were put to him, Masi said, as quoted by Motorsport.com: "I don't even engage in that side of it. Every driver is entitled to their views and comments, either internally or to the media, and that's fine.
"The rules are applied equally for everyone. We judge each and every incident, looking at the actual incident and what occurs."
Asked if Alonso's viewpoint only added pressure to the stewards when making in-race decisions, Masi replied: "No, not at all. We are very fortunate that we have a very good group of stewards throughout the year. And no, I can tell you that does not place any additional pressure whatsoever on them."
Following Alonso's public criticism, the stewards came under more fire in Turkey when it handed AlphaTauri's Pierre Gasly a five-second time penalty for colliding with Alonso on the first lap.
There has been calls over the years for F1 to have a consistent set of stewards at all races, but Masi stands by the current system of staff rotation.
"Absolutely. As we've said before, the stewards are an independent judiciary to review anything, and that's why they are independent to review it on that basis. They do look at everything, case by case," Masi explained.
"Yes, you can sort of compare different types of incidents, let's call it, but they are there to review each case with all of the information and data that they have available, and then ultimately make their decision.
"Each team is entitled to talk about consistency and so forth, but we have a general road of parameters, they are all well and truly aware of where those are.
"If there are things that aren't quite right, we discuss them openly. And if we need to tweak them, we tweak them."
---