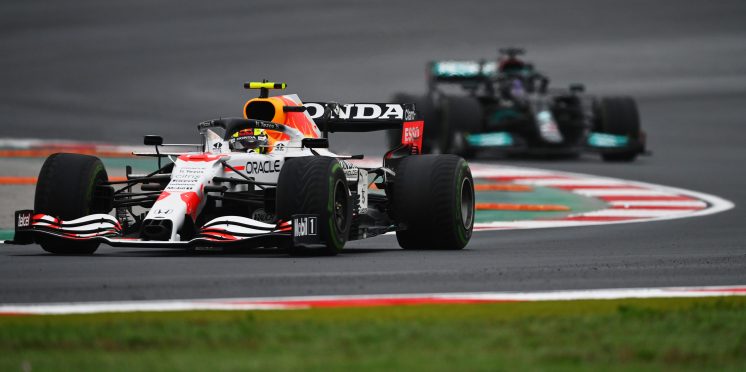 Mercedes' recent engine gains 'surprising', says Red Bull
Red Bull says Formula 1 title rivals Mercedes' "significant" advantage in straightline speed is "surprising", leaving it searching for answers as how to respond in the coming races.
Valtteri Bottas defeated Max Verstappen during Sunday's Turkish Grand Prix, with Red Bull unable to match the pace of Mercedes over the 58-lap event.
Since Mercedes introduced its latest specification power unit at Spa, it has clearly been benefited by a boost in straightline speed, a factor Red Bull has been unable to counter.
While Red Bull had previously been able to get around the deficit by running a low downforce set-up, the difference in speed is now too large to be able to run that configuration.
The way Lewis Hamilton was able to out-drag Sergio Perez during their mid-race tussle despite running higher wings was proof of the gains Mercedes has made on its power unit.
"Their straightline speed has taken a significant step recently, and I think that whereas we could match them with smaller wings previously, now we can't get near," said Horner, as quoted by Motorsport.com.
"We saw that particularly at this circuit, where Lewis in particular had a significant straightline advantage with a bigger rear wing of the car.
"We've got to maximise our package as best we can. And, as I say, it's surprising that they've made the step that they have with the power unit."
Mercedes' boost in power comes during its recent issues with reliability, but engine changes on both cars have eased concerns for the remaining races.
The next race at the US Grand Prix will likely suit the German manufacturer's speed advantage, but Mexico and Brazil's higher altitude has historically favoured Red Bull in past years.
On the outlook of the championship battle, Horner believes it is too close to call, stressing his team cannot afford any slip-ups if it is to win its first title since 2013.
"We know the next race in Austin has been a Hamilton stronghold for quite a few years," Horner said. "But then Mexico and Brazil, hopefully higher altitude races tended to be quite strong for us in the past. Then I'm really not sure what to expect from the last three.
"It's going to be fascinating, but you know we are going to have to be at the very top of our game.
"We've managed to extract the maximum that we possibly could here [in Turkey], with great execution in the pit stops, and good strategy. So that was positive. But certainly this venue has been strong for Mercedes on outright pace."
---