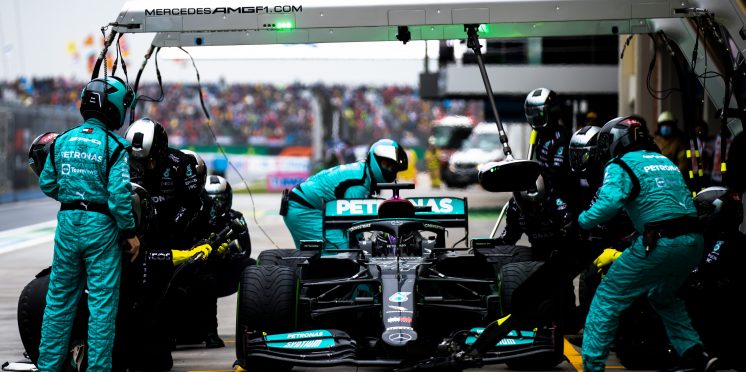 Pirelli doubtful Hamilton would have finished Turkish GP without pitting
Pirelli Formula 1 boss Mario Isola says he doubts Lewis Hamilton would have made it to the end of Sunday's Turkish Grand Prix on used intermediate tyres.
Hamilton started 11th on the grid following an engine change, but had mounted a fightback that saw him running in the podium places 10 laps from the end.
Although cars around him opted to pit for fresh rubber, Hamilton elected to ignore Mercedes' calls to switch tyres and try and see out the remaining laps on his worn intermediates.
Fearing Hamilton's pace would drop off completely and lose him a handful of places, Mercedes brought the Briton in with eight laps still to run.
The stop saw him drop to fifth place where he would eventually finish, with Hamilton venting his frustration over team radio at the decision to bring him in.
While Hamilton admitted he was frustrated for "not following my gut" in trying to finish without pitting, Pirelli F1 chief Isola wasn't convinced the seven-time world champion could have preserved his tyres to the chequered flag.
"Looking at the tyres after the race, I would say no, or at least it was really at the limit," Isola told Sky Sports F1.
"The wear of the tyres, especially at the end of the race, [meant it] was running basically on the construction.
"It is a bit dangerous to push the boundaries like that, but I fully understand that in race conditions they have to maximise the result."
Alpine's Esteban Ocon was the only driver to attempt a no-stop strategy, with the Frenchman coming home in 10th place, becoming the first driver to complete a race without a pitstop since Mika Salo at the 1997 Monaco Grand Prix.
Asked about Ocon's strategy, Isola said the track conditions meant tyre wear was "at the limit", revealing he asked Pirelli engineers to advise teams against going the full race distance without a pitstop.
"On most of the cars that stopped after lap 47 or 48, they were completely finished," Isola said.
"We know that with the new tarmac, that it is more abrasive and has more grip compared to last year, and the track was not dry but still abrasive. So it was really, really at the limit.
"I was suggesting to our Pirelli engineers to warn the teams to change the tyres, and to not go to the end because it was a very risky move."
---