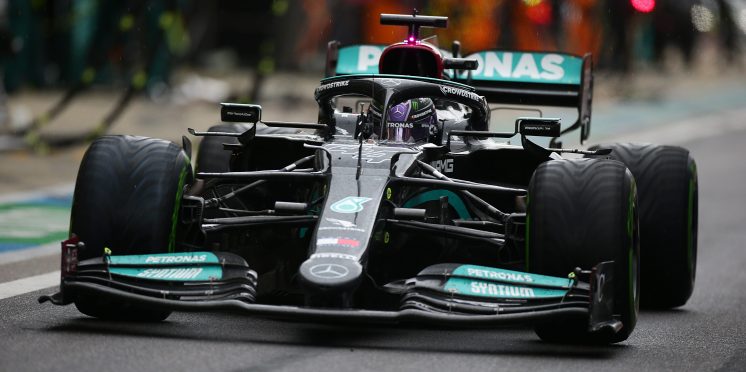 Mercedes weighing its options over possible Hamilton grid penalty
Lewis Hamilton could face a grid penalty at this weekend's Turkish Grand Prix after Mercedes Formula 1 boss Toto Wolff admitted an engine change was a "possibility".
Hamilton is currently on his third and final allocated power unit for the season, leaving him at risk of starting at the back of the grid in one of the final seven races.
Mercedes has conceded there are "question marks" surrounding the reliability of its engines, a predicament that has left it concerned amid its title battle with Red Bull.
Hamilton's team-mate Valtteri Bottas also changed his power unit in Belgium but fitted new engines at both Monza and Russia, with the latter, initially thought to be a strategic decision, influenced by reliability concerns.
With Hamilton holding a slender two-point lead over Max Verstappen in the drivers' championship, Wolff is aware of the impact a retirement could have on the title fight.
Speaking in an interview with Sky Sports F1, Wolff said: "Most important is that you don't DNF because of a reliability issue.
"You can cope if it swings whether you finish second or third, I think that is OK. The championship is gonna go long.
"But if you don't finish [it is worse]. So, we are looking at the parameters of the engines, making sure that we don't suffer from any reliability problems.
"It's a possibility. When and how it's not yet decided."
Should Mercedes decide to switch Hamilton to a fourth power unit, the seven-time world champion has past experience of recovery drives in Turkey after recovering to second from the back of the field during his championship-winning GP2 season in 2006.
Wolff had previously stated it wasn't an "absolute must" that Hamilton would need to take a grid penalty in the remaining races.
Although Hamilton reclaimed the lead in the drivers' standings after his win in Russia, Verstappen's charge from last to second following his own engine change minimised the damage.
Red Bull boss Christian Horner admitted after the race that Verstappen's recovery felt "like a victory", especially given Sochi is conceived to be one of Red Bull's weaker tracks.
---