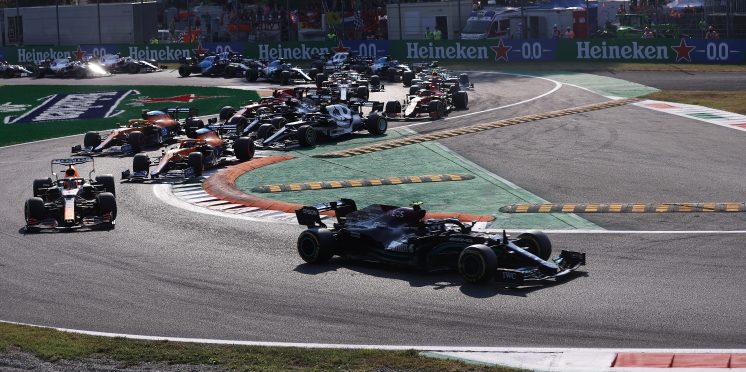 F1 sprint format could feature at 'one-third' of races in 2022
Formula 1 CEO Stefano Domenicali says sprint events could become a more prominent fixture on next year's calendar, with plans for it to feature at "one-third" of the races.
The F1 sprint has been a new addition to the weekend schedule this year as part of a trial run to see if it could become a more regular part of F1's three-day format.
Two sprint events have already been run at Silverstone and Monza, with a third planned for Brazil, before F1 chief's review if the format could be expanded for next year.
It has divided opinion among several drivers and fans following its opening two trials, drawing criticism for the decision to award pole position to the winner of the sprint rather than the fastest driver in qualifying.
Mercedes boss Toto Wolff said F1 shouldn't "freestyle" format changes just to create more on-track action, while Red Bull's Sergio Perez felt sprint races were "very boring" and "don't bring anything" to the weekend format.
But Domenicali, who replaced Chase Carey as CEO at the beginning of the year, felt the sprint events had been a success, and revealed plans for them to feature at up to seven races in 2022.
"We said at the beginning of the year there would be three tests this year to make sure we have the right plan for the future," Domenicali told Sky Sports News.
"The vast majority of the comments we received were super positive. Promoters are super happy because there is something new and important on Friday and Saturday and Sunday.
"We are receiving this positive feedback therefore we need to know next year we have a great plan where we will consider also the points highlighted by people who did not like this format. Generally speaking it has been an incredible success.
"I can say we will not go everywhere with the Sprint qualy format. It is something we want to keep for one third of the races more or less and to connect with a certain different way of giving rewards and points and to connect with specific circuits that as you know would make the difference.
"So there is a lot of food for thought. We will involve all the stakeholders: broadcasters, drivers, teams, promoters and fans. We won't forget our role is to take the right decision and to consider all the points and points of view of everyone."
Domenicali also revealed some key details regarding the look of next year's calendar, which is set for a record-breaking 23 races.
Last week saw the announcement that Qatar would hold a race later this year as part of a long-term deal starting in 2023, while Miami will also debut next year.
To avoid clashing with the 2022 World Cup that will be held over the winter in Qatar, next season is will see the earliest finish to a campaign in over a decade.
"I can anticipate that, for sure, the calendar will be done with 23 races," Domenicali said.
"Of course we will be very respectful towards the Covid regulations issued around the world from the different governments. But that is our aim that F1 can give this sign of hope and to go to normal things to enjoy."
"The idea is to make sure there is the right rhythm to the calendar. There are of course considerations related to periods to make sure logistically the flow has to be right.
"One thing I can tell you, without discovering too many things is that next year the season will start in the middle of March and will finish in the middle of November."
---