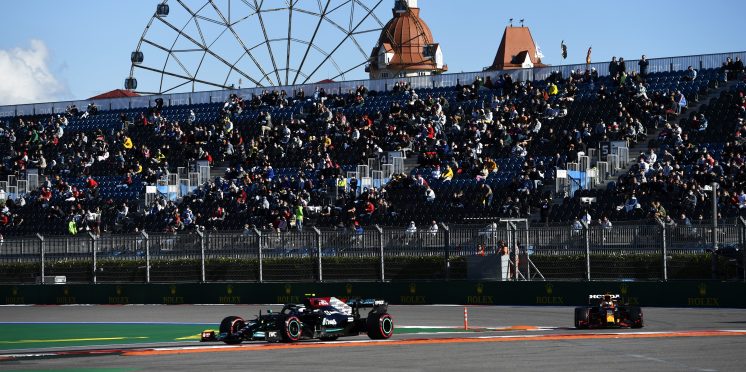 Mercedes pledges to be 'really aggressive' in F1 title run-in
Mercedes will continue to be "really aggressive" in the final seven races of the 2021 season amid its Formula 1 title battle with Red Bull, says team boss Toto Wolff.
Having won the last seven world championships consecutively, Mercedes has faced its closest threat in the V6 hybrid era in the form of Red Bull.
The title fight has ebbed and flowed all year long, with Lewis Hamilton's victory in Russia seeing him retake the lead in the drivers' standings ahead of Max Verstappen.
Hamilton, through, was unable to extend his lead further after Verstappen pulled off a masterful recovery from the back of the grid to finish in second place, ensuring he left Sochi just two points behind in the title race.
But Mercedes did manage to increase its lead over Red Bull in the constructors' championship to 33 points, helped by Valtteri Bottas' rise to fifth place in the closing stages.
Wolff stressed the Brackley-based outfit could not afford to sit back in the remaining races, acknowledging neither they or Red Bull has maximised its points score in recent races.
"In a way, we're not maximising our points scoring, and the same today," Wolff said, as quoted by Motorsport.com.
"I think quali was all decisive. Valtteri going back [after an engine penalty] we knew was difficult, and we ended up with a first and fifth, and that is very good, no doubt about that, and it's Lewis's 100th victory.
"But Max recovered in a spectacular form, and that is not good for the championship.
"So in a nutshell, we just need to continue to be really aggressive in how we approach this season, not be defensive, but just move forward, in order to score these big points
"Because neither us nor the others are really good in maximising the points at the moment."
Monza and Sochi were expected to favour Mercedes' package given its promising record at both circuit's, but Wolff said the tweaks to this year's regulations had thrown the form guide out of the window.
"I stopped trying to anticipate whether it's historically a strong race for us, because everything with the new regulations, everything changes, so has changed so much," Wolff said.
"Definitely, we knew that Monza and Sochi would be coming more towards us. And the reality is we are where we are, and this is the points gap and I doubt that any of the two teams will make massive swings up or down.
"It's just about, really, to continue to do the best possible job."
---