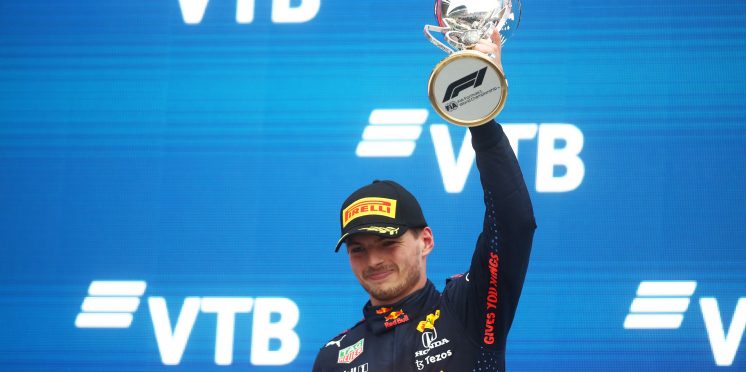 Verstappen podium from back of grid 'like a victory', says Red Bull
Max Verstappen's charge from the back of the grid to second place in Sunday's Russian Grand Prix felt "like a victory", says Red Bull team boss Christian Horner.
Following Red Bull's decision to fit a fresh power unit in Verstappen's car, the Dutch driver had to start last in Sochi.
Verstappen knew he would have to take a grid penalty after losing one of his three allocated engines due to crash damage, with Red Bull electing to make the engine change in Russia as overtaking is possible.
After making solid progress in the first half of the race, Verstappen struggled with graining on the medium tyre prior to the late rain shower.
But having looked likely to finish around sixth place, Verstappen timed his switch onto the intermediate tyres perfectly as he rain intensified, elevating him up to second behind race winner Lewis Hamilton.
While Verstappen lost the lead in the drivers' championship to Hamilton, his P2 finish minimised the damage, leaving him just two points behind the Mercedes driver with seven races to go.
"I think it was like a victory for us," Horner said, as quoted by Motorsport.com. "To go from 20th on the grid to P2, I think if anybody had offered us that prior to the weekend, we would have bitten their arm off.
"So to have achieved that, to come away from two Mercedes strongholds with only a two point deficit [to Hamilton] in the drivers' championship, is hugely encouraging. With seven to go, it's all to play for."
Red Bull said it expected from its pre-race simulations that fifth place was the highest finish it could hope Verstappen to achieve.
"Pre-race, probably P5 would have been the absolute optimum," added Horner.
"So to come away with P2, because it was looking, obviously, a few laps before the end, as if we were going to be P6.
"Max got the call right to go on to the inters, and it worked out well for him. So to get that P2, get the engine and penalty done, it's more than we could have hoped for going into the weekend."
Verstappen showed strong pace when in clean air, but suffered with tyre graining when struck behind other cars.
Given his struggle to re-pass Fernando Alonso after the Spaniard overtook him after the stops, Horner said the late downpour arrived at the right moment.
"I think he just got into some graining with the front tyres," explained Horner. "The tyres go through a phase where you could see on other cars ahead it was happening.
"He had so few laps in clean air but his actual pace, as you saw in the first stint, as soon as he got a bit of clean air, he was very, very quick.
"But just the damage that it does following other cars so closely, particularly through the long Turn 3, it just started to take energy out of the front.
"They [the tyres] clean up and they were coming back, and that's why he was coming back at Fernando, but to be honest with you, the rain in the last five laps came at the right time."
---