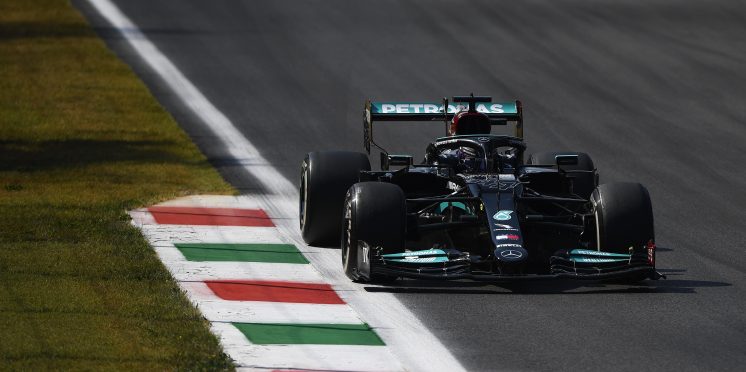 Mercedes: Hamilton could avoid taking extra F1 engine
Mercedes Formula 1 boss Toto Wolff says it's not "an absolute must" that Lewis Hamilton will have to use a fourth engine for the remainder of the season.
Teams are restricted to an allocation of three power units over a season, which if exceeded will result in a driver having to take a grid penalty.
Hamilton's championship rival Max Verstappen will have to take a grid drop at one of the remaining eight races after one of his engines was damaged beyond repair from his collision with Hamilton at the British Grand Prix.
Red Bull has already hinted it will take the penalty at the next race in Russia given it is a circuit where it is possible to recover lost positions.
The Milton Keynes-based outfit decided to move Sergio Perez onto his fourth engine after his Q1 exit at the Dutch Grand Prix, while Mercedes pulled a similar tactic with Valtteri Bottas at Monza.
But while he refused to rule out the prospect of using an extra power unit, Wolff stressed it wasn't a given Hamilton would need to take a grid penalty at some point in the year.
"No, it's not an absolute must because we're still running very comfortably with this power unit," Wolff said, as quoted by Motorsport.com.
"It's a decision that can be made at any time but, at the moment, we don't feel it's necessary.
"Does that mean we're not going to take a fourth? No, it doesn't. We will see how the next races pan out."
Speaking to Sky Sports F1 over the Italian Grand Prix weekend, Wolff said he was wary of how one DNF could have a huge impact on the title battle with very little to choose between Hamilton and Verstappen this year.
"We believe that between P1 and P2, with the fastest lap, that if you have one DNF it needs the other guy four races to catch up," Wolff said.
"And that's brutal. So you can afford to finish four times in second [place]. Therefore, you just need to really play it safe while not giving up performance."
Hamilton added: "At the moment I've still got two engines. And there's currently no plan for me to have to take an extra engine, hopefully. But we shall see."
---