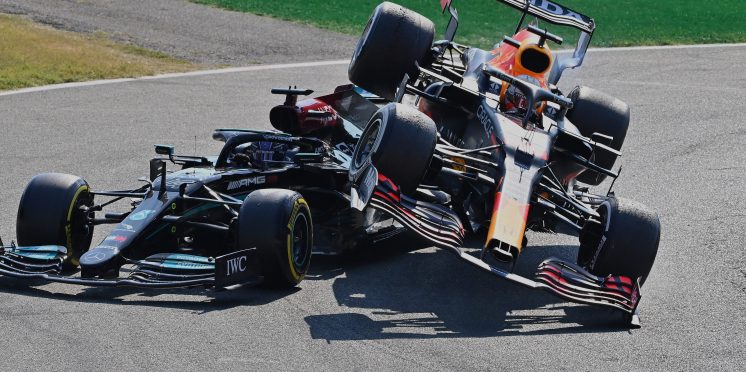 Mercedes: Red Bull knew Verstappen was at fault for Hamilton collision
Mercedes has implied that Red Bull's senior management knew Max Verstappen was "in the wrong" after his collision with Formula 1 title rival Lewis Hamilton at the Italian Grand Prix.
Verstappen attempted a move around the outside of Hamilton at the first chicane as the Mercedes driver exited the pits after making a pitstop, only to make contact and land on the top of Hamilton's car.
The pair were both forced to retire from the race and left many debating who was at fault for the incident. Verstappen would later be handed a three-place grid penalty for the next race in Russia after being found predominantly to blame by there stewards.
Red Bull team boss Christian Horner and motorsport advisor Helmut Marko were adamant that the clash was purely a racing incident, which Mercedes believes was a telling choice of words given it has historically always backed its drivers in similar moments.
"We obviously felt strongly that Lewis had done absolutely nothing wrong, and that Max was the one predominantly to blame," said Mercedes trackside engineering director Andrew Shovlin, as quoted by Motorsport.com.
"I think if you look at the fact that even Helmut and Christian weren't trying to blame Lewis, it sort of feels like they know Max was in the wrong, because they will try and blame Lewis at any opportunity."
It marked the second time this season that Hamilton and Verstappen have come together when battling for position following their controversial first-lap accident at the British Grand Prix.
Shovlin felt the clash cost Hamilton a potential victory, but stressed the importance of Mercedes needing to not let its focus slip heading into the final eight races.
"Ultimately, I think it cost Lewis a win and certainly a second place, as you'll always feel that three places is relatively easy to overcome if you've got a competitive car," Shovlin said. "But that's all in the past now.
"We need to make sure we put a good weekend together in Russia, and it's a place where the car should be competitive.
"But we've had pretty messy races for quite a long time now. The team needs to not get distracted and focus on delivering the kind of performance that we know we can, and the kind of performance that we need to, to win these championships."
Horner stood by his point of view that both Verstappen and Hamilton could have avoided an incident and would likely look at the situation differently in the aftermath.
"For me, having looked at it again, I felt that Max deserved a bit more space to be given at Turn 2," said Horner.
"I think Lewis gave him enough space through Turn 1, and then into Turn 2, then it just felt he could have given him a bit more room to work with.
"I'm sure the other guy will argue it the other way. But I think, when you look at it objectively, you have to say, it is a racing incident."
---