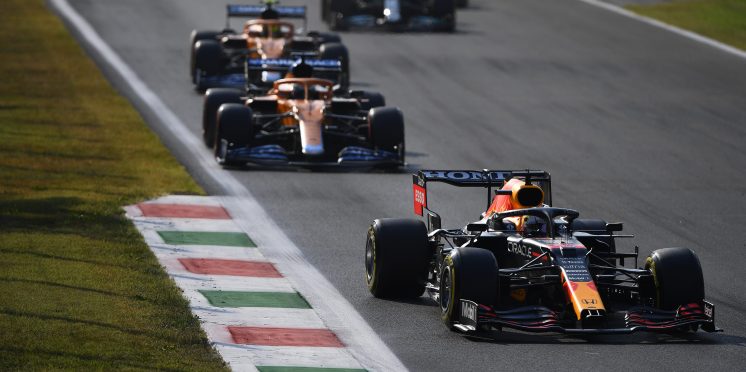 Hamilton expects 'easy win' for Verstappen after falling to P5 in sprint
Lewis Hamilton predicts Formula 1 championship rival Max Verstappen will take an "easy win" in Sunday's Italian Grand Prix after claiming pole from Saturday's sprint qualifying.
Hamilton started alongside Mercedes team-mate Valtteri Bottas for the sprint but made a poor start and slipped to fifth place by the end of the opening lap.
Although Bottas dominated the 18-lap sprint and crucially prevented Verstappen from scoring the maximum three points, his grid penalty for a change of power unit elevates the Red Bull drive to pole position.
Hamilton was unable to make any further ground following his bad start, crossing the line in fifth place behind the McLaren's of Daniel Ricciardo and Lando Norris.
It means the seven-time world champion lost a further two points in the title race to Verstappen, and believes the Dutchman will only extend his lead with a comfortable victory in Sunday's main event.
"You saw the pace of the Red Bull," Hamilton said. "I don't know if he was quicker than Valtteri, but they're so fast, and now he's on pole.
"So it should be an easy win for him. Me, I've just got to try and get past these two guys [McLarens] ahead."
Red Bull went into the weekend playing down its chances at Monza, at a track the team hasn't scored a top-three finish at since 2013.
It seemed its fears would be realised as Verstappen struggled to match Mercedes' pace in qualifying, but Hamilton wasn't convinced by Red Bull's apparent struggles.
"I think they've got more pace than you think they've had all year," Hamilton said.
"They bring upgrades every week. I think from what I'm told, there's only one race where they haven't brought an upgrade, and then they're constantly adding performance to the car.
"They did a great job, but well done to Valtteri today."
Hamilton failed to find a way past Norris despite sitting in the McLaren's DRS range for most of the sprint, and has his hopes pinned on limiting the damage on Sunday.
"We underestimated how well they would behave," said Hamilton on the degradation of the soft tyres.
"Anyway, [I've] got to try and figure out how I can get by the McLarens tomorrow, and try to limit the damage."
---