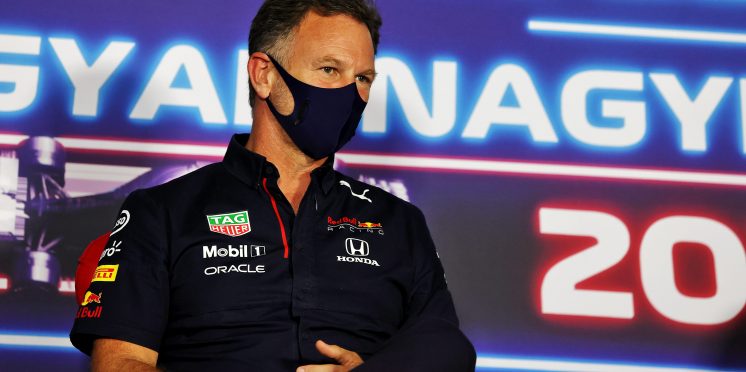 'Antagonistic' Mercedes statement surprising, says Horner
Red Bull team principal Christian Horner was left surprised by Mercedes' statement following its failed attempt to review Lewis Hamilton's British Grand Prix penalty, calling it "antagonistic".
Horner was strongly critical of Hamilton's attempt to overtake Max Verstappen for the lead on the opening lap at Silverstone that resulted in the Red Bull driver's 51g crash at Copse Corner.
While Hamilton received a 10-second time penalty for the collision, the Briton recovered from the setback to take victory and close Verstappen's lead in the drivers' standings.
An incensed Red Bull decided to request a review of the sanction handed to Hamilton by the stewards, feeling the penalty was too lenient.
But after a hearing on Thursday ahead of this weekend's Hungarian Grand Prix, the FIA rejected Red Bull's case as its evidence wasn't "significant and relevant new element" and was created rather than discovered as demanded by the International Sporting Code.
Following the outcome of the hearing, Mercedes released a statement that alleged a "a concerted attempt" by Red Bull's senior management to "tarnish" Hamilton's reputation.
"I think the statement by Mercedes is a little antagonistic, shall we say, but I don't really read too much into it," said Horner when asked to respond to the statement, as quoted by The Race.
"It's never been anything personal about a single driver, it's about the events that happened, and a competition between two guys, it's not individual to any driver.
"If that had been any other driver the reaction would have been identical so I was a little surprised by the Mercedes comments, but we've put that behind us and our focus is very much on track."
Horner explained the reasoning behind Red Bull's petition to re-evaluate Hamilton's penalty, but stressed it accepted the dismissal of its case by the stewards and is keen to move on from the matter.
"We presented that data to the stewards. They gave us a fair hearing yesterday where we will talk through that data, the positioning of the cars, the speed of the cars," Horner said.
"The fact that Lewis would have had to braked 23 metres earlier to have even made the corner. The fact that Max is on the same trajectory is identical to that of Charles Leclerc [later in the race], the result with Charles would have been identical had Lewis taken the same approach.
"So we presented that data, we feel that we had a fair hearing, the stewards felt that it wasn't new evidence, under the confines of the regulations, and so it wasn't opened into another hearing.
"We accept that. This competition is all about marginal gains, leaving no stone unturned and of course when you have an accident of that velocity and impact, of course you're going to make a full investigation.
"But as far as we're concerned, the chapter is now closed, the stewards have made their ruling and we now very much focus on this weekend and the remaining part of the championship."
---