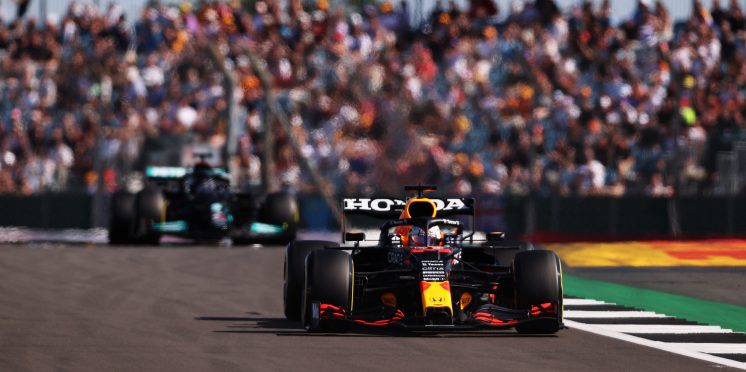 Red Bull has request to review Hamilton British GP penalty rejected by FIA
Red Bull's petition to review Lewis Hamilton's British Grand Prix penalty has been dismissed by the FIA following a hearing on Thursday.
The saga surrounding Hamilton's first-lap crash with Max Verstappen has been a major talking point since Silverstone and ultimately led to Red Bull appealing the leniency of the Mercedes driver's sanction.
Hamilton was handed a 10-second time penalty but recovered to win and close Verstappen's lead in the drivers' standings.
In order to have its case looked at further, Red Bull was ordered under the FIA's rules to bring "significant and relevant new element" to the stewards.
Red Bull felt there was enough evidence at its disposal to suggest Hamilton should have been given a harsher punishment, presenting the information at the Hungaroring on Thursday.
The evidence included slides created from GPS data of the incident itself, as well as comparing Hamilton's move on Ferrari's Charles Leclerc at the same corner later in the race.
Another slide featured Red Bull's reserve driver Alexander Albon re-enacting Hamilton's opening lap during a filming day the team conducted last week.
Following its review of Red Bull's case, the FIA was clear in a statement it was not "a significant and relevant new element [that was] discovered which was unavailable to the parties seeking the review at the time of the decision concerned".
The rules demand that the elements provided must be discovered and not created, which the stewards felt Red Bull had fallen foul of the ruling.
"The slides in Appendix 2 of the Competitor's letter that were relied upon as New Evidence were not "discovered" but created for the purposes of submissions to support the Petition for Review. And they were created based on evidence that was available to the Competitor at the time of the decision (namely the GPS data). That clearly does not satisfy the requirements of Article 14."
The decision to dismiss Red Bull's evidence means Hamilton's penalty remains unchanged and keeps his Silverstone victory.
The FIA's statement also mentioned some 'concern' over claims made in which Red Bull protested the penalty handed to Hamilton after the crash.
It didn't comment further on what the claims had been, but revealed they could have shown relevance to the stewards had a review been approved.
"The Stewards note, with some concern, certain allegations made in the Competitor's above letter.
"Such allegations may or may not have been relevant to the Stewards if the Petition for Review had been granted. The Stewards may have addressed these allegations directly in any decision that would have followed. The Petition having been dismissed, the Stewards make no comments on those allegations."
---