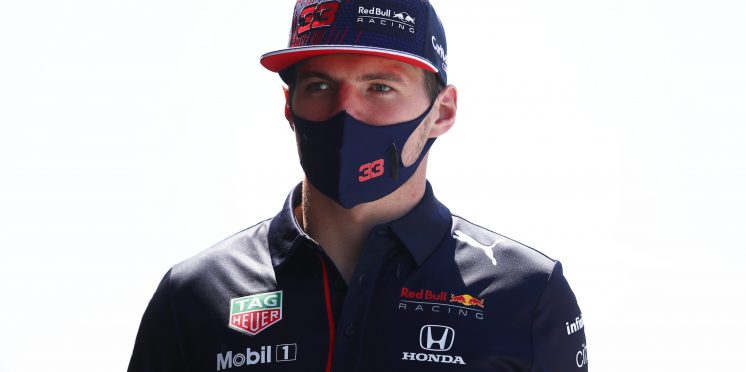 Verstappen 'not interested' in media frenzy over Silverstone crash
Max Verstappen has distanced himself from the ongoing talk surrounding his crash with Lewis Hamilton at the British Grand Prix, insisting he's "not interested" in media buzz it has triggered.
Verstappen endured an intense scrap with Formula 1 title rival Hamilton on the opening lap at Silverstone, that ended in a collision at Copse Corner.
The incident resulted in Verstappen retiring after a 51g impact, while Hamilton would go on to take victory despite a 10-second time penalty for being deemed predominately to blame for the contact.
It has also led to simmering tensions between both teams, with Red Bull team boss Christian Horner heavily criticising Hamilton's move and Mercedes for celebrating while Verstappen was undergoing checks in hospital.
Horner went on to reiterate his thoughts on the crash, signalling an intent to appeal Hamilton's penalty after revealing the damage to Verstappen's car had cost the team $1.8 million.
On Tuesday it was confirmed by the FIA that Red Bull had exercised its right to review the incident further, which is scheduled for a hearing on Thursday ahead of this weekend's Hungarian Grand Prix.
But despite the frenzy the crash has created in recent weeks, Verstappen stressed he is focused on maintaining his and Red Bull's lead in both championships.
"I don't have much to say on all the media hype, and to be honest, I am not interested in getting involved in any of that," Verstappen said in Red Bull's Hungary preview.
"I know what happened at Silverstone as I was in the car and obviously I feel a certain way about how my race ended, but now I'm just focusing on making sure we are the best we can be on track so we can stay ahead in the championship.
"The team can take care of the official side of things and anything that needs looking into after the crash but my job is the same as always: to be the best I can and try to win on Sunday."
Verstappen underwent precautionary CT and MRI scans in hospital following the crash before being released a few hours later.
Although a little bruised, Verstappen revealed he took part in a 24-hour sim race in preparation for his return in Hungary.
"I'm a little bruised of course but that's normal after such a big impact but I'm training and feeling good," Verstappen said.
"I did a 24-hour sim race this week and it was a good test to see how my body would react to spending time sat in one position and behind screens for a long time.
"I felt absolutely fine which makes me feel positive heading into the weekend. I'm definitely ready to go again."
---