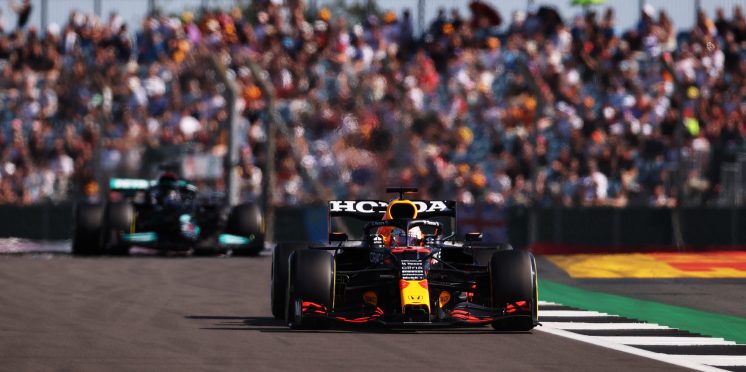 Verstappen's aggression meant Hamilton clash was 'inevitable'
Max Verstappen's aggression in wheel-to-wheel combat meant his first-lap crash with Lewis Hamilton in the British Grand Prix was "inevitable", says Mercedes trackside engineering director Andrew Shovlin.
The pair collided at Copse Corner after a fiercely intense opening lap in which neither driver was prepared to yield during their battle for the race lead.
It resulted in Hamilton being deemed predominantly at fault for the incident by the stewards, who handed him a 10-second time penalty, while Verstappen retired on the spot after a 51g impact with the barriers.
Hamilton would go on to make up the deficit he'd lost from serving his penalty by claiming an eighth victory at Silverstone, allowing him to reduce Verstappen's lead in the drivers' championship to eight points.
Both Hamilton and Verstappen have battled each other on a number of occasions this year, but this marked the first time it had ended in contact.
Noting Verstappen's aggressive stance in racing situations, Mercedes' Shovlin said it was a sign that the Red Bull driver and Hamilton would eventually collide.
"If you look at the sprint race, [and] if you look at the opening lap of the main race, Lewis was constantly having to back out of it to avoid a collision," Shovlin said, as quoted by Motorsport.com.
"He was able to put his car into a position where he could stand his ground.
"Max drives aggressively and it's inevitable that, one day, we're going to get an accident.
"But we were pleased with the job Lewis did, and slightly disappointed to get the penalty but just relieved we could still win the race."
The incident marked the first coming together between two title contenders since Hamilton and Sebastian Vettel collided on the opening lap of the 2018 Italian Grand Prix.
Red Bull's hierarchy vented its anger at the leniency of Hamilton's sanction, with team boss Christian Horner dubbing the Briton's win as "hollow".
Asked if he believed Hamilton and Verstappen's crash was inevitable, Mercedes boss Toto Wolff said it was "a situation you have all seen in the past when great drivers race each other".
Speaking after the race, Wolff added: "When nobody is prepared to give in then this kind of situation can happen.
"But for me it takes two to tango.
"This championship, it was always very intense, because we were fighting with everything we have in order to hold onto this championship, while knowing we are not as performing as Red Bull and Honda.
"Therefore, we've had big points losses in the past and today we scored big points. So that is always balancing itself out."
---