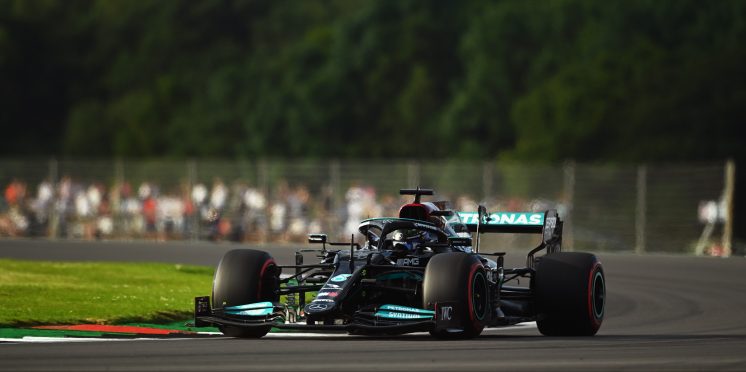 Wolff: Mercedes qualifying pace wasn't down to upgrade
Mercedes boss Toto Wolff says his team's impressive pace in qualifying at Silverstone wasn't only down to its upgrade brought to this weekend's British Grand Prix.
Mercedes enters this weekend aiming to end its longest losing streak in the V6 hybrid era, having failed to win the last five races amid Formula 1 rivals Red Bull's dominant run of results.
In a bid to cut the deficit to Red Bull, Mercedes has introduced upgrades to its W12 car despite Wolff insisting it would stop development for the rest of the year.
The Brackley-based outfit looked on the back foot in opening practice on Friday afternoon, trailing lead Red Bull driver Max Verstappen by over seven-tenths.
But a major turnaround saw Lewis Hamilton edge out his championship rival by less than a tenth to take spot in qualifying, ahead of F1's first-ever sprint race on Saturday.
Reflecting on Mercedes' performance after qualifying, Wolff stressed the new upgrades were not the reason for the team's strong one-lap pace.
"It's good to come back, especially the pace of both drivers," Wolff told Sky Sports F1.
"Lewis could have probably been another three-tenths up if it hadn't been for the rallying at the end, so it's good and I'm happy about the pace.
He added: "It's not the upgrade, I think it's that we've found bits everywhere.
"The tyres were in the right window and the sweetspot of the car, you can see how it fluctuates between Verstappen being absolutely dominant in the morning and then it swings the other way around."
Mercedes sits 44 points adrift of Red Bull in the constructors' championship, its biggest deficit since 2018, while Hamilton is 32 points behind Verstappen in the drivers' standings.
Although Mercedes is under threat of losing its F1 crown after seven straight titles, Wolff is relishing the test of trying to stay in touch with Red Bull.
"We see it as a test," Wolff explained. "We had seven championships in a row, we were never complacent, we were always humble about it and worrying that somebody could catch us up.
"Then suddenly we find ourselves this year with a new set of regulations that bite us more than expected, so that's something to learn, so that we are behind.
"And everything that we talked about in the last few years about how we would react if that happens, now it's the test, and we can see whether we do as expected or not.
"It doesn't win you the championship but still it allows you to stay in the hunt and I'm happy with how we are reacting so far."
---