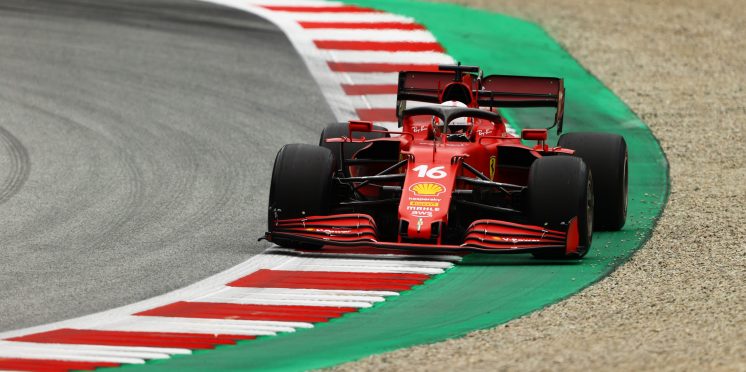 Leclerc open to Ferrari surrendering P3 fight for title push in 2022
Charles Leclerc says he would "be happy" for Ferrari to sacrifice its fight with Mclaren for third place in the constructors' championship to focus on a title bid in 2022.
Ferrari finds itself in an intense scrap with McLaren for third in the standings, but is currently on the back foot against its Formula 1 rival.
Although it has scored two pole positions and a podium finish in Monaco, the Italian outfit is 19 points adrift of McLaren after nine races this year.
Ahead of the new regulations arriving in 2022, most teams have switched focus to next year with the rule changes set to shake-up the pecking order.
Speaking on F1's Beyond the Grid podcast, Leclerc revealed how he has been pushing the team to throw all of its resources into next season, aware of how the new rules present a "huge opportunity" for future success.
"If you had the contract in front of me telling me that we sacrifice 2021 for a competitive 2022, I will be happy to take it – but nobody has this guarantee, unfortunately," Leclerc said.
"[I'm pushing the team] more to focus on 2022. And I think this is clear for everyone. 2022 will be a huge opportunity for everyone. These new cars are going to stay for many years after that.
"This year, OK, we are still fighting with McLaren for the third place in the constructors, but at the end, we know that our goal is to fight for the first position very, very soon, and this will be from 2022 onwards, and not this year.
"So I will be happy to give up about the third place in the constructors in 2021 to be fighting for the first place in 2022."
Ferrari sporting director Laurent Mekies has already stressed it is "90% to 95%" focused on designing its 2022 car, and won't be upgrading the SF21 for the rest of the campaign.
Leclerc admits Ferrari's inconsistent form at recent events has been "frustrating" after struggling in race conditions in France before lacking one-lap pace at both Austria rounds.
"It is frustrating, because one race it's one way, the other race is the other way," Leclerc said.
"You never get the best out of both worlds. But it's part of life, I guess. And we'll try to find the right balance."
---