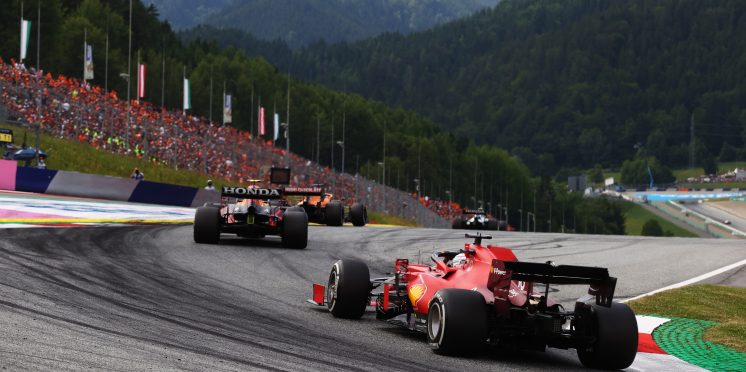 Brawn 'very optimistic' F1 sprint races allow drivers to 'go for it'
Ross Brawn says he's "very optimistic" Formula 1's new sprint races will allow drivers to "go for it", despite uncertainty hanging over the format.
This weekend's British Grand Prix will see F1 debut a sprint race on Saturday in place of qualifying, marking the first of three trials set to take place over the season.
The 100km race, which will decide the starting grid for Sunday's main grand prix, has divided opinion, with some unsure the event will produce exciting racing.
Seven-time world champion Lewis Hamilton is doubtful sprint races will be "too exciting" and predicts it won't offer much of a spectacle.
But F1's managing director of motorsport Brawn believes the two-lap sprint at the end of this year's Azerbaijan Grand Prix serves purpose that sprint races can work.
"I think what was fascinating was Baku and the little sprint we had at the end, which was exciting," said Brawn, as quoted by Motorsport.com.
"I don't think ours will be quite so aggressive, because obviously it's over 100 kilometres so they've got a little bit more time.
"But I think racing drivers will race each other in a supermarket car park with shopping trolleys. It's their nature that they want to beat each other: and there is nothing worse for them to be beaten by somebody.
"Even if you could argue the sprint is only the precursor to the main event, the race, I think they will be desperate to beat each other and shows who's the fastest, and who's the strongest."
The introduction of a sprint race is part of F1's experiment to tweak the traditional weekend format, as it seeks to draw in new fans with a shorter event.
While there has been concerns drivers could decide to take a more cautious approach in the sprint race to give themselves a greater chance of scoring points in Sunday's race, Brawn disagrees, expecting the free tyre choice to encourage flat out racing.
"We've really tried to encourage flat out racing the whole time," Brawn added. "We wanted to have no holding back in qualifying, no funny tyre choices in the qualifying and the same in the sprint: we've tried to create a situation where you wouldn't be disadvantaged in the race by your tyre choice.
"I think none of us know how the drivers will behave, how conservative they'll be, and how much pressure they get from their teams to be conservative or to be aggressive.
"I personally am very optimistic. I think it will be a very good event, a great race. And I think the drivers will go for it, because do we think Max [Verstappen] and Lewis [Hamilton] are going to have a different mindset going into that first corner, because it's a sprint? I don't think so. But that's to be established, and that's what we need to find out."
---