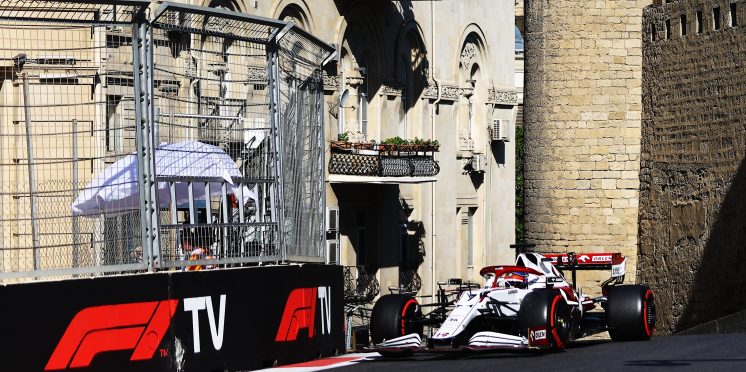 Vasseur: Standings don't reflect Alfa Romeo's 'big step forward' in 2021
Alfa Romeo's points tally after the opening six races in 2021 isn't a true reflection of the "big step forward" it has made from last year, believes team boss Frederic Vasseur.
The Swiss-based outfit has made significant inroads from the previous campaign, with the C41 proving a more competitive package than its predecessor.
Despite losing its first points of the season at Imola after a post-race time penalty for Kimi Raikkonen, Alfa finally ended its drought in Monaco before adding another top-10 finish last weekend in Baku.
While it only has two points to show for its efforts this season, Vasseur insists it doesn't reflect the progress Alfa has made from 2020.
"Looking at the standings doesn't really say the full story as I think our performance has been a lot more positive than the total amount of points collected so far says," Vasseur said, as quoted by RaceFans.
"As a team, we have made a really big step forward from last season to this," said Vasseur, "perhaps the biggest among all teams on the grid.
"The data speaks for itself – just looking at qualifying, the average gap we have from pole position went down by more or less a percentage point, while in the race we have made also significant progress, above half a percentage point.
"In such a close grid, that's a big jump forward and I think we're not done yet delivering the full potential of our package."
Alfa's engine supplier Ferrari has also made considerable performance gains with its new power unit, but Vasseur stressed it isn't the only contribution to the team's improved form.
"The whole entirety of the C41 is working better than its predecessor and it would be unfair to point to a single element to give credit for the progression we have made," he said.
"The power unit has made a big step forward, of course, but we have improved every aspect of our car and the result is visible on track."
Alfa Romeo's qualifying performances have been the biggest demonstration of its progress, securing a Q3 appearance in Monaco in nine fewer races than in managed last season.
"We had only eight Q2 appearances in 2020, including when we put two cars in Q3 in the rain in Turkey." Vasseur said.
"Now after six races, we have already cleared Q1 eight times out of 12 possible, and we have a Q3 on pure merit – in the dry, in Monaco. Last weekend, in Baku, we had the strongest pace we've had on Saturday all season, even though the final positions on the grid didn't reflect it."
Vasseur felt several cases of back luck on and off track explained why Alfa Romeo hasn't scored more points at this stage of the season.
"There have obviously also been some specific instances in which we could and should have done better – an issue with Antonio's [pit] stop in Bahrain, when he was running in the points; Kimi's crash in Portugal," Vasseur said.
"But in many cases, it's been something outside our control – Antonio's race in Spain was ruined when the FIA marshalling system mistakenly prevented him from catching up with the pack, or when we lost two points we had scored with Kimi in Imola due to a controversial penalty, in a race when Antonio's race was also destroyed by a loose visor strip getting lodged in the brake ducts.
"Issues like these really put the pressure on delivering the perfect session every time, as there is no room for mistakes when the margins are so tight. We need to keep working to improve all that is under our control – and then what is down to luck will hopefully take care of itself."
---