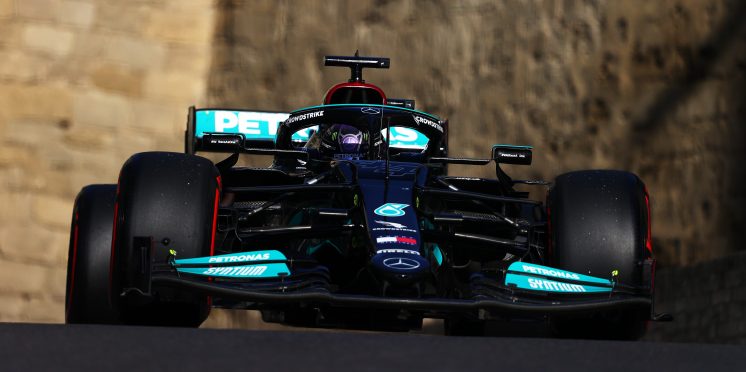 Hamilton didn't expect 'monumental' front row in Baku qualifying
Lewis Hamilton was left surprised to claim a front row starting position for the Azerbaijan Grand Prix, calling it a "monumental result" after a "disaster" of a weekend.
Mercedes found itself far off the pace from the front-runners in Friday practice, with Hamilton and team-mate Valtteri Bottas finishing outside the top 10 in FP2.
But a major turnaround, involving a switch to a low downforce rear wing and extra warm-up laps to build tyre temperature, enabled Hamilton to secure second place behind pole-sitter Charles Leclerc.
Acknowledging the struggles Mercedes went through prior to qualifying, Hamilton hailed the team's work overnight after several set-up changes left him "chasing his tail".
"I think we definitely weren't expecting that," Hamilton said. "This is such a monumental result for us, because we've been struggling like you couldn't believe all weekend.
"You can see it, but we kept our composure, continued to have difficult discussions in the background, kept challenging one another and just never taking no for an answer.
"We've moved around and made so many changes over these two days, which is chasing your tail. It's been so difficult, but I think the work overnight and then typically between the sessions was amazing.
"I'm really proud of everyone for keeping positive. And to be to be up there and so close to these guys is a great result."
Mercedes biggest weakness this year has been an issue with tyre warm-up, which Hamilton admitted had been a real head scratcher to try and resolve.
"It's just crazy trying to get these tyres working and trying to find the envelope for this car," he said. "It is the biggest challenge I think we've had in a long time, to understand where the car is.
"She has not been happy all weekend. It's been a bit of a disaster, so for us to be up here, and even Valtteri [Bottas] getting into the top ten, that's a massive leap and that's really down to great, great teamwork."
Hamilton is optimistic Mercedes can challenge Red Bull and Ferrari in race trim after showing promise on its long-run pace on Friday, which bodes well for Sunday's grand prix.
"Our race pace was a lot better than single lap pace," Hamilton said. "We were miles off in a single lap and a lot closer in race pace. We don't understand why, but I like to think, hopefully, we are in that same position, so we can take that fight to these guys [Red Bull and Ferrari] tomorrow."
---