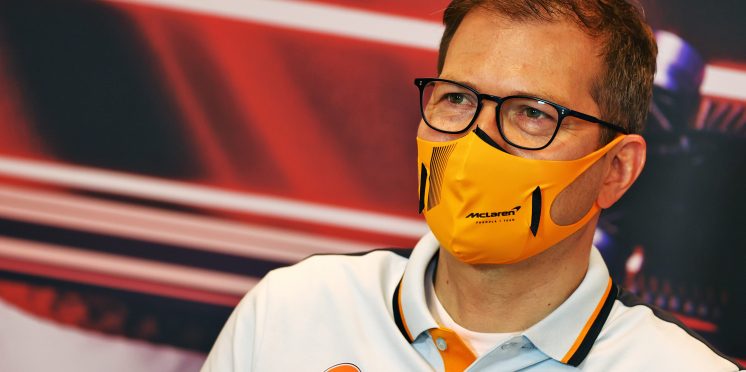 McLaren urges F1 to take action on flexi-wing saga in Baku
McLaren has called on the FIA to take action against Formula 1 teams who continue to run flexi-wings at this weekend's Azerbaijan Grand Prix.
The saga surrounding flexible rear wings has rumbled on to Baku, with some teams still unhappy about the unfair advantage gained by those who run the device.
Stricter tests on bendy wings will not come into force until the next race in France, which has already caused an uproar from those who want the clampdown to be introduced sooner.
The FIA is increasing checks this weekend by adding new locator stickers on the wings and, in an updated technical directive, suggested it could react further if teams go too far.
But McLaren team principal Andreas Seidl insists something must be done if rival outfits keep running flexi-wings.
"From our point of view, if we see deflections again like we have seen in Barcelona, there needs to be action here this weekend. How this action will look like in the paddock, I don't know yet," Seidl said, as quoted by Motorsport.com.
Although Seidl was satisfied with the FIA's updated stance on rear wing flexibility, he remains frustrated the checks are already not in place.
"We're happy with all the actions FIA has put in place with the technical directive, even with the update of the technical directive," Seidl said.
"The only thing we are still not happy with, and that's the point of the discussion, is why do you let teams that benefited already for several races, with a car that has not been in the regulations, to keep using these devices."
Seidl believes when the FIA comes to judge what is and isn't allowed in regards to bending wings, it should look at how the designs are creating the deflection.
"It is not just the deflection that you see, but in the end what is important is for the FIA to look into how does this deflection get created," he said.
"If this deflection gets created by a design that is clearly done for passing the test which is in the regulations, then is creating excessive deflection, on purpose, that's obviously not within 3.8 [of the rules that bans moveable aerodynamic devices]."
Despite the FIA's updated guidance, teams remain free to lodge a protest, with Mercedes admitting in Monaco it could go as far as taking action in court.
Seidl was coy on whether McLaren would take similar action, preferring to see how the situation pans out over the weekend.
"I don't want to go into discussion of a protest at the moment," Seidl said.
"In general, it doesn't make sense to do anything before the event, because you can change a rear wing on Saturday morning. There's no point to do anything on a Friday night."
---