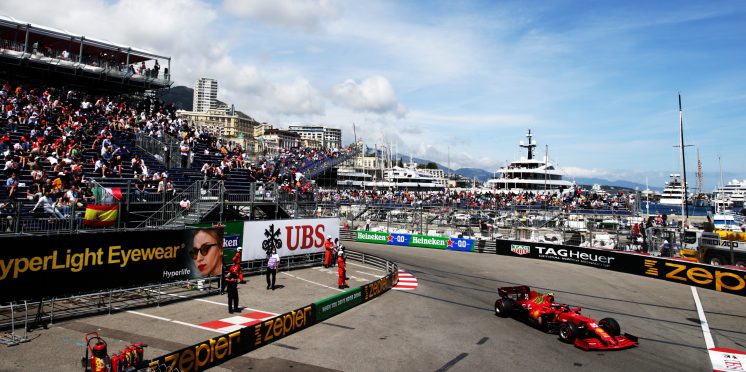 Ferrari: Repeat of Monaco performance 'not a given'
Ferrari says hopes of repeating its strong form at the Monaco Grand Prix later in the season is "not a given", fearing its best chance of victory may have gone.
The Italian outfit was a genuine front-runner in Monaco, with its pace surprising the team as much as its rivals.
Charles Leclerc claimed a shock pole position in qualifying, Ferrari's first since Mexico 2019, but a crash at the end of the session would have severe consequences for the Monegasque driver.
Despite Ferrari giving his car the all-clear, having feared the damage he sustained from the accident would lead to a grid drop, a driveshaft failure meant he was unable to start the race.
While Carlos Sainz salvaged its promising weekend by scoring the team's first podium of the year, Ferrari believes it could have lost its best opportunity to win its first race since Singapore 2019.
"I think yes there will be circuits, [with] low-speed corners, that we may be competitive, but it is not a given," said team boss Mattia Binotto, as quoted by Motorsport Week.
"I think on our side instead of thinking which circuits we will be competitive we are already focused on Baku, the next one, then focused on the following [events]
"There is still room of exploiting better the car, we have shown if we prepare better the race weekend we can exploit the weekend."
Although Sainz admitted seeing a potential win slip away was a "tough one to swallow" for the team, the Spaniard tried to see the positives from Ferrari's most competitive weekend of 2021 so far.
"You will not find many, and even those circuits you are thinking [about], the same as me, [it] doesn't mean we will be fighting for pole or the podium," he said.
"Mercedes and Red Bull, I believe, they still have an advantage on us and it will be very tricky to be finding ourselves fighting for the pole or win.
"That's why this weekend is also a bit of a tough one to swallow as you don't know when the next chance will come.
"But we need to take pride at the steps forwards and how competitive the car has been this weekend.
"It is not easy to be quick around Monaco, and the fact me and Charles were so quick, it is down to the good performance of the team and how everything has been working this weekend."
---