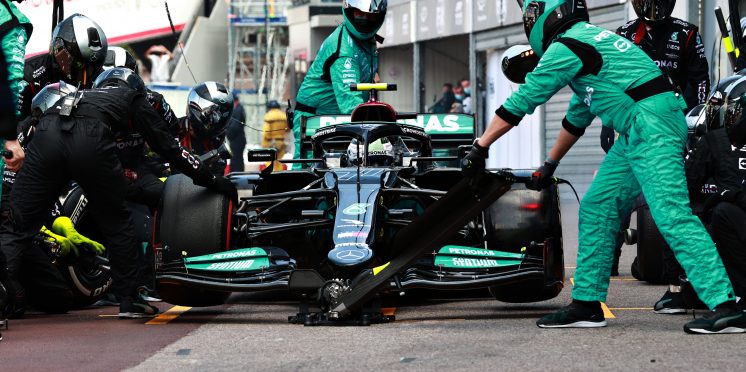 Mercedes still unable to remove wheel nut from Bottas' car
Mercedes has revealed it won't be able to remove the wheel nut from Valtteri Bottas' Formula 1 car until it returns to the factory after his pitstop issue in Monaco.
Bottas was running behind race leader Max Verstappen when he pitted on Lap 30 to change tyres, only for his front-right tyre to remain on the axle.
Despite the mechanics efforts to try and dislodge the faulty wheel nut, the issue could not be fixed and forced the Finn to retire for the second time in four races.
Explaining how the wheel nut had machined itself to the axle as a result of the wheel gun, Mercedes technical director James Allison said, as quoted by Motorsport.com: "If we don't quite get the pitstop gun cleanly on the nut, then it can chip away at the driving faces of the nut.
"We call it machining the nut. It is a bit like when you take a Phillips head screwdriver, and you don't get it squarely in the cross of the screwdriver.
"You start to round off the driving face of the screwdriver slots, and then you just simply can't take the screw out of whatever it is you are trying to take it out of because you have no longer got the driving faces.
"A very similar thing happens with our pitstop nuts if the gun starts spinning and chipping off the driving faces of the wheel nut.
"Given the power of the gun, you can end up with no driving face and you just machine the nut down to a place where there is nothing left to grab a hold of, and that is what we had today."
The issue not only cost Mercedes a podium finish in Monaco but also allowed Red Bull to claim the lead of both championships, with Lewis Hamilton only finishing in seventh.
Allison revealed Mercedes had been unable to take wheel off even after a post-race inspection, forcing it to wait until it has the required tool to remove it back at the factory.
"We eventually didn't get the wheel off, it is sat in our garage with the wheel still on it," Allison said.
"It will have to be ground off, get a Dremel out and painfully slice through the remnants of the wheel nut. We will do that back at the factory."
---