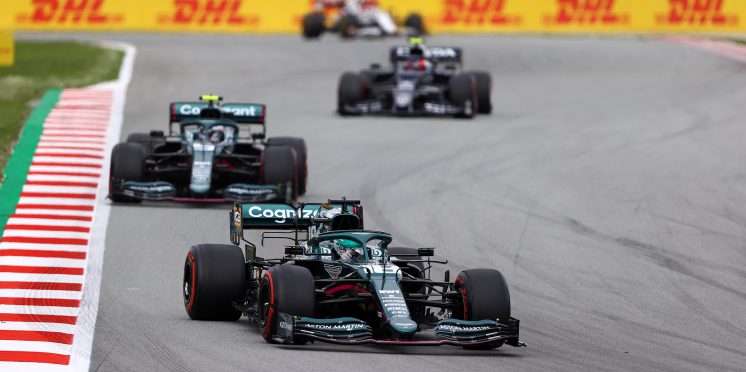 Vettel lacking 'a bit of pace' to fight for points
Sebastian Vettel says he is still lacking "a bit of pace" to fight for points as he still searches for his first top-10 finish for Aston Martin.
The German's first four races for the Silverstone-based outfit have proved a real struggle, with a best finish of 13th in Portimao and last weekend's Spanish Grand Prix.
Vettel is still aquatinting himself in the AMR21, but reported he was happier with how the car performed in Spain after running the new floor for the first time, even if he admitted the result was a "fair reflection" of where the team lies.
"Well, more comfortable," Vettel said, as quoted by Motorsport.com. "But I'm lacking really a bit of pace to fight for points.
"I think today, with hindsight, maybe here and there we could have done something different, but I need to have a look. Overall, it's probably a fair estimate of where we stand at the moment."
Aston Martin's performance drop off from last year has seen it fall into a congested midfield pack, as it sits seventh in the constructors' standings.
Vettel admits the midfield fight has been "very close" in the early races, with teams all trying to improve their current packages.
"Well, I think everybody is trying to make progress, so it's difficult to make a lot more progress than the others," Vettel said. "I was a bit surprised today with the Alpine, they weren't very quick in the race. I expected them to be faster, because they were so much faster yesterday.
"But I think we see it's very close. Equally the AlphaTauris were a lot faster in the race than they were yesterday. Every weekend is a bit different. And if it's so tight, maybe if you'll feel a bit more comfortable, maybe the car suits better to the track, you find an extra one or two tenths."
Looking ahead to the next round in Monaco, Vettel, a two-time winner in the Principality, remains cautious about Aston Martin's prospects.
"We'll see. Obviously to the very front runners, we're missing downforce, so it will be difficult. But Monaco is always different, so hopefully we can make a difference."
---