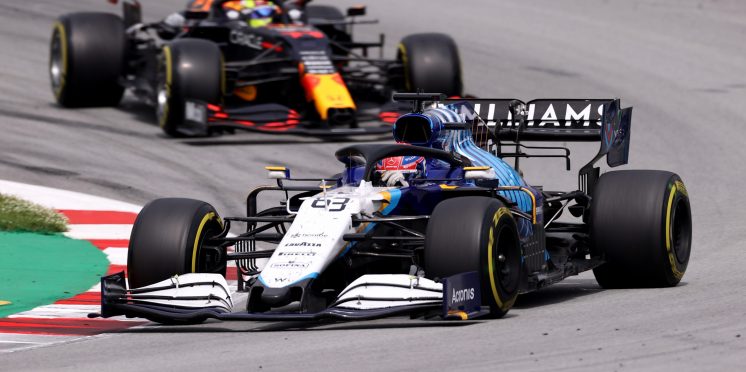 Russell: 'joyous' Williams the best its ever felt in Spain
George Russell says his Williams was the "best it has ever felt" during the Spanish Grand Prix than in any other race after delivering his best finish of the year.
Williams opted to take a gamble on strategy by pitting Russell early during the safety car period, as it targeted its first points finish since Germany 2019.
The Briton ran as high as eighth as he tried to make it to the end by making just one extra stop, only for his tyres to fade and drop him to 14th by the chequered flag.
Speaking after the race, Russell backed his team's bold strategy and was left encouraged by the cars pace in race trim, calling it "joyous" to drive.
"I'm really pleased that we rolled the dice and we found ourselves in that position," said Russell, as quoted by Motorsport.com. "I think in those fine margins, who knows what would have happened had I cleared him [Alonso], but all in all I think we did a really good job.
"The car felt today the best it has ever felt in a race, and probably the best I can remember. That is what makes it so joyous to drive compared to normal, most of which I put down to a calm day. We know the beast we have."
Russell's comments come just one race after he claimed the Williams was the worst it had felt since 2019 in Portimao, with the FW43B left exposed in the windy conditions.
Russell believes the calmer weather was key to Williams' performance in Sunday's race, explaining how it helped make the car more consistent in normal conditions.
"It was just a car on a consistent day," Russell said. "The wind was less than 10km/h and there were minimal gusts, which made the car consistent to drive. And when it is consistent as a driver, you can drive around it.
"I think that is something Nicholas and I have really struggled with, especially in Portimao that was really exposed. It was incredibly inconsistent and, as a driver, you lose all the confidence.
"Then it has a negative effect on the tyres and you just get this downward spiral. Whereas days like today, where the car is nice and consistent as a driver, you can really push it to its limit and manage the car and its tyres as you wish and really optimise everything.
"Don't get me wrong, I'm sure a lot of people felt their car was a lot better. But we take a bigger jump when these conditions are favourable."
---