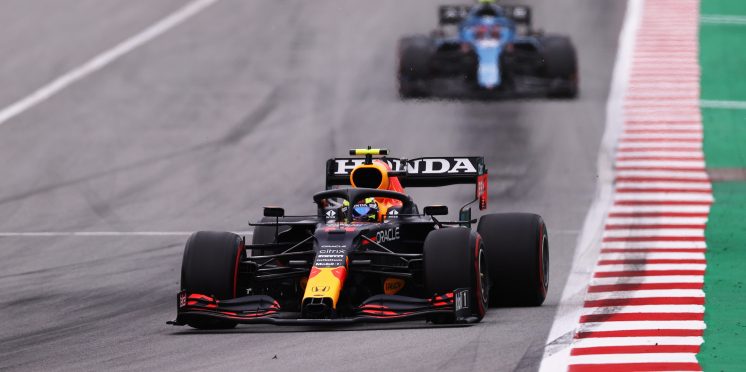 Horner: Red Bull 'desperately need' Perez in Mercedes fight
Red Bull team boss Christian Horner says it "desperately" needs Sergio Perez to be closer to the front pack to prevent Mercedes having strategic options.
Despite leading 55 laps of the Spanish Grand Prix, Max Verstappen was outfoxed on strategy by Lewis Hamilton after the Mercedes driver had enough of a gap behind him to make a second pitstop.
Mercedes made the call as Hamilton struggled to find a way past Verstappen, with the switch to a two-stop allowing him to rejoin without losing position to another team.
On fresher tyres, Hamilton hunted Verstappen down, who had a 22 second lead when Hamilton exited the pits, before eventually overhauling him to claim his third win in four races.
Horner is well aware it cannot afford to give Mercedes the upper hand on strategy if it is to take the fight to the German manufacturer, acknowledging how much of a difference having two cars in contention makes.
Speaking about Perez's weekend, Horner said, as quoted by Motorsport.com: "I think it's coming together for him. He had an off day [on Saturday] and he was compromised in the race behind Daniel [Ricciardo].
"Obviously then he didn't manage to make headway at a track [where it is] so difficult to pass, because we desperately need him to be in that gap, so that Mercedes don't have the strategic options that they had.
"I'm convinced that that will come for Checo as he finds more confidence and time in the car."
Since Monaco 2018, the second Red Bull car has only finished on the podium twice compared to Verstappen's 34 top-three finishes and eight victories in the same period.
Red Bull's defeat was reminiscent to Hungary 2019 when it faced a similar situation where Hamilton had a free pitstop and it was unable to respond.
Speaking about how both races ended in similar outcomes, Horner said: "The facts are very clear that obviously the two lead guys were so far ahead of the rest of the pack as it were, that Lewis had a free stop as he had in Hungary.
"He only had to get past his teammate, and that was never going to be an issue. So that's why we need both cars up there strategically, so that option isn't available to Mercedes."
---