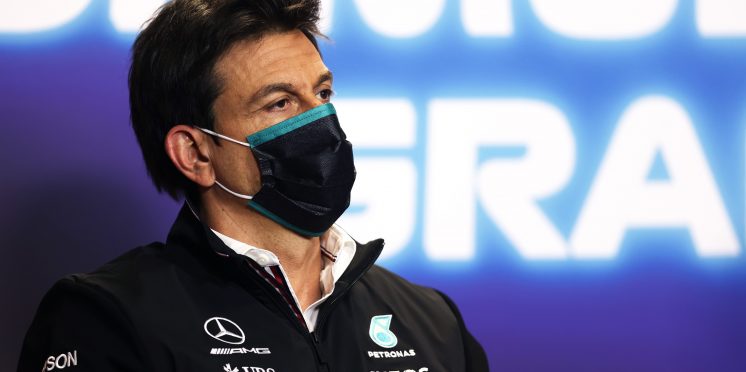 Wolff: Mercedes won't play 'musical chairs' with Bottas
Toto Wolff has responded to speculation Valtteri Bottas could lose his Mercedes seat midway through the 2021 season, saying it has no interest in playing "musical chairs".
Reports in the media during the week suggested Bottas could be dropped and replaced by Williams driver George Russell before the end of the season.
The Finn has suffered his worst start to a campaign since he joined Mercedes in 2017, and on Thursday Bottas labelled the rumours as "bullshit".
He also criticised Red Bull for the way it has treated its drivers in recent years, believing their mid-season driver swaps are not something Mercedes would consider.
Speaking to Sky Sports F1 after Friday practice ahead of this weekend's Spanish Grand Prix, Mercedes boss Wolff was clear Bottas would "absolutely" remain in the car for the remainder of the year.
"Absolutely, unless he gets the flu and can't drive he's going to be in that car," Wolff said. "I see no reason to change. It's these guys over there that like to play musical chairs. No, no change expected."
Wolff was also pressed on Red Bull's announcement it has signed another five Mercedes HPP personnel to join its Formula 1 engine division.
Red Bull had already poached Mercedes' head of mechanical engineering Ben Hodgkinson to become its new technical director, but has continued to raid its rivals engine staff.
"If you want to set up an engine factory in the UK, there is only one, and that is us," Wolff said.
"We have 900 or so employees there, and if we are fishing out 15 of these or so, that's pretty normal.
"But they went mainly after manufacturing staff, so it's not really performance. I guess they want to build up the company.
"But credit to the project, it's a Mount Everest to climb. I'd like to have a fight with Red Bull power units."
Wolff went on to reveal that Red Bull has "in all approached 100 people or so, and they got 15 maybe."
---