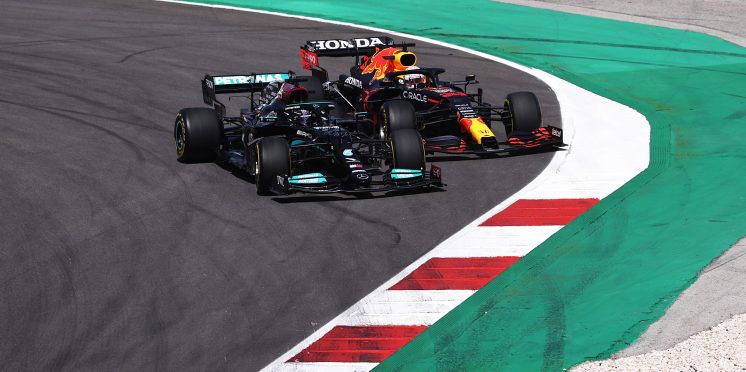 Hamilton and Verstappen trust racing will remain clean in F1 title battle
Lewis Hamilton and Max Verstappen have complete trust in each other that they will continue to race cleanly during their battle for the drivers' title.
Sunday's Portuguese Grand Prix saw the pair race wheel-to-wheel for the third race in succession, having already battled for victory in Bahrain and Imola.
Verstappen caught Hamilton napping on the safety car restart when he swept past the Mercedes driver at Turn 1, only for Hamilton to strike back on Lap 10 and retake second place.
Hamilton would go on to overtake team-mate Valtteri Bottas and claim his second win of 2021, with Verstappen following him home in second.
Aware of how closely-fought the championship has been after three races, both drivers don't see any reason why they can't continue to race fairly.
"It is naturally down to respect," Hamilton said, as quoted by Crash.net.
"I think [were] both very, very hard but fair and I think that's what makes great racing and great racing drivers.
"I think we will continue to keep it clean and keep it on the edge, but I don't think either of us has a plan to get any closer than we have been."
Verstappen said he has never doubted Hamilton when battling the seven-time world champion, insisting he always has "full trust" he will leave enough room.
"Especially when you race a driver, when you know that you can go to the absolute limit, I guess you can trust each other to just race super-hard," he explained.
"That's always really nice because you can see in the three races we've had it's been really close to each other but predictable.
"Lewis has never had something like 'oh, we're going to crash' or something. I always have full trust in Lewis that we always give each other enough space."
Hamilton's win in Portimao saw him extend his lead in the drivers' standings over Verstappen to eight points, with the title battle resuming at this weekend's Spanish Grand Prix.
---