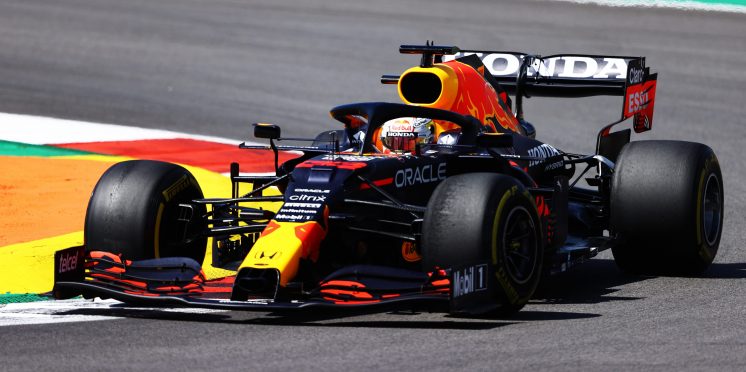 Red Bull on F1 track limits: 'something has to change'
Red Bull motorsport advisor Helmut Marko says "something has to change" with Formula 1's approach to track limits after Max Verstappen lost a bonus point for fastest lap at Portimao.
Having been unable to keep in touch with race leader Lewis Hamilton in the closing stages of the Portuguese Grand Prix, Red Bull opted to pit Verstappen on the penultimate lap with a view to claiming the fastest lap accolade.
On his final tour, Verstappen set the fastest lap of the race, but his time was deleted shortly after he'd seen the chequered flag as he'd exceeded track limits at Turn 14.
The Dutch driver was initially unaware he'd lost fastest lap having been told by his race engineer he'd secured the extra point, and incorrectly assumed in parc ferme the stewards were not policing track limits at the corner he went off.
Marko made his feelings clear when speaking to Sky Germany after the race, calling the lack of consistency in overseeing track limits as "annoying".
"Now we've lost the victory, fastest lap, and pole position," Marko said. "All good things come in threes. I hope that's the end of it.
"Something has to change. Either you make a boundary with kerbs or you make gravel or something. If you go out, there's an automatic penalty.
"[Lando] Norris overtook [Sergio] Perez, went over with all four wheels, and there were no consequences. So it's not consistent, and that's not racing when you juggle the rules like that."
Red Bull team principal Christian Horner was also frustrated by the decision, which proved the third occasion Verstappen has been penalised for track limits.
At the season-opener in Bahrain he was forced to surrender the race lead after passing Hamilton off track, and was denied pole position on Saturday for a track limits infringement at Turn 4.
"The whole track limits debate is just frustrating," Horner said, as quoted by Crash.net.
"It's been brutal for us across the first three events. The win in Bahrain, the pole position yesterday and now the fastest lap. So it's been pretty expensive for us.
"[Lando] Norris passed Checo fully off the track, again another track limits inconsistency."
---