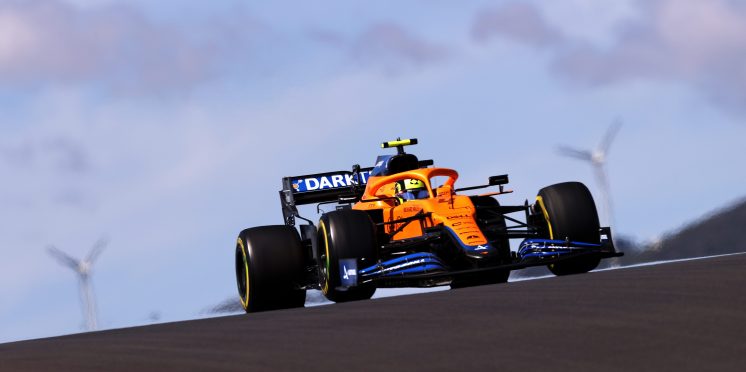 Norris 'more confident than ever' amid strong run of form in 2021
Lando Norris says he's feeling as confident as he's ever been during his Formula 1 career after a third top-five finish to start his 2021 season.
Norris qualified seventh for the third consecutive race at the Portuguese Grand Prix, but immediately made progress as he overtook Esteban Ocon and Carlos Sainz in the opening laps.
The McLaren driver continued his charge on the safety car restart by lunging past Red Bull's Sergio Perez at Turn 5. The pair would dice further on in the grand prix, but Norris' pass off-track at Turn 1 would see him forced to hand the place back to Perez.
Despite returning the position, Norris ran strongly to the chequered flag to finish best of the rest in fifth behind both Mercedes' and Red Bull's.
"It was a very good race for me today," Norris said, as quoted by Crash.net. "A tough one. Charles was pushing me a lot the whole of the second stint. And it was quite a long second stint, so it was difficult.
"Difficult with the wind and the conditions and so on. But the car was good, I felt good. I think we did a good job as a team, and fifth was the best we could do today. The others are too far ahead. So I am happy."
Having began the campaign with a fourth in Bahrain and a podium at Imola, Norris' strong run of form sees him sit third in the drivers' standings, four places ahead of McLaren team-mate Daniel Ricciardo.
When asked about his recent run of results, the Briton said he feels in the best shape since making his F1 debut in 2019.
"I feel not overly confident, I feel as confident as I have ever been," Norris explained. "It is important not only on race day but in qualifying and throughout the whole weekend and the whole year, so I feel good.
"I feel like we are doing a good job as a team, we are talking about the things we need to be, we are preparing for the things we need to be preparing for.
"We are doing a good job and doing what needs to be done. And the hard work is paying off. More weekends like this would be lovely, but they are still very difficult even though they might sometimes look easy from the outside. We will do our best. But a good amount of points so I am happy."
---