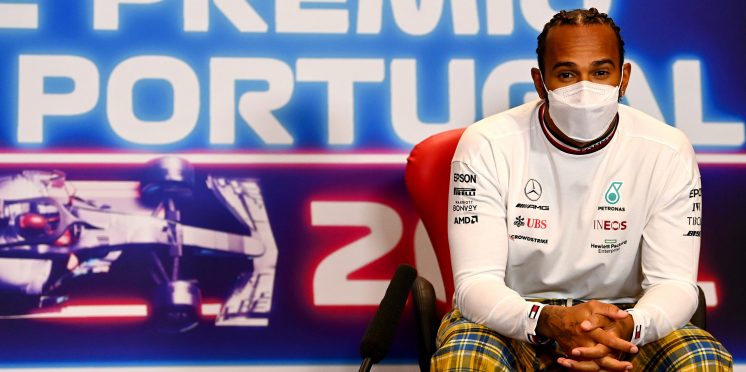 Hamilton praises F1's 'open-minded' approach to sprint races
Lewis Hamilton has praised Formula 1 chiefs for being "open-minded" following the introduction of sprint races in 2021, saying exterminating with new formats is good for the series.
Earlier this week it was announced that qualifying sprint races would feature at three grand prix's this season after a unanimous agreement amongst all 10 teams.
The first trial will take place at the British Grand Prix in July, which will see drivers take part in a 100km race with the results deciding the grid for Sunday's full distance grand prix.
Although some fans remain divided on opinion over whether the change will create exciting racing, Hamilton sees it as a unique opportunity to try something different from the usual weekend format.
"What I will say is that I have always said that we need to have some sort of different format at certain races through the race, at some tracks," Hamilton said, as quoted by Motrosport.com.
"At places like Monaco for example, which is beautiful to be at but it is not an exciting race necessarily.
"So I like that they have been open-minded and made changes and I think from those experimental kind of weekends I hope that the sport will learn lots and how we can deploy certain races moving forwards."
Ferrari's Charles Leclerc has also shown his support for sprint races, believing the move will allow drivers to push their cars flat out over a race distance rather than thinking about fuel and tyre management.
"Normally, we have a very clear plan throughout the weekend with FP1, FP2, FP3, but now we'll only have a FP1 and then straight to quali," Leclerc said.
"This is something I like personally, because there's less time to study before quali, so you might make a bigger difference than [now].
"Then, for the sprint race, it is very difficult to say. I think one good thing about the sprint race is that we'll finally be able to push those cars for a whole race, 100 kilometres, to the maximum. This might be nice for us drivers.
"But then we'll have to see whether this is a good thing for the show or not, which at the end is what matters the most. And then the Sunday race has to remain the most important event of the weekend."
Aston Martin driver Sebastian Vettel, however, remains sceptical of the new format, suggesting there is more behind it than simply creating more of a spectacle for fans.
"Obviously it's decided so we'll give it a go," Vettel told Sky Sports F1. "The reasoning behind this… there's probably two ways to explain it. The official one if that it should be more exciting.
"I hope it is, and if it turns out to be more exciting and the people like it, maybe we have to reset and adapt.
"If they don't like it and we don't like it, then let's go back. I'm generally against creating a mess on purpose, otherwise you might [as well] roll the dice, but we'll see. Hopefully [we] get the cars get closer and closer so we don't have to think about more of these things."
---