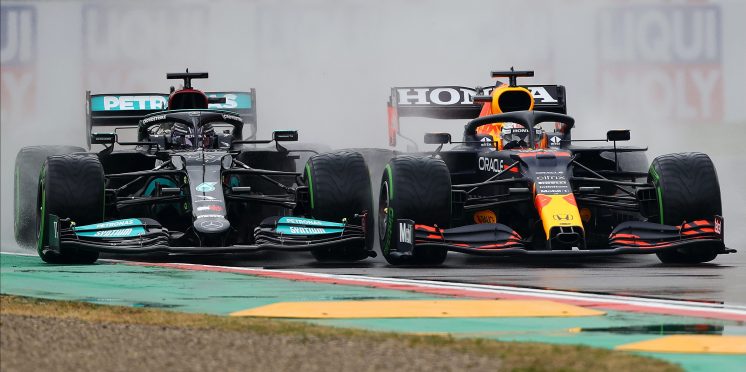 Red Bull aims to pressurise Hamilton in F1 title fight
Red Bull says it will aim to put "as much pressure" on Lewis Hamilton that it possibly can in its battle with the Mercedes driver for the drivers' title.
Having watched Hamilton and Mercedes win every championship since the V6 hybrid era began in 2014, Red Bull is now a serious contender to steal the Brackley-based outfit's crown.
Although Hamilton narrowly beat Max Verstappen to victory at the opening race of the 2021 season in Bahrain, Red Bull's pace confirmed it had the faster package.
Verstappen made amends for the defeat with a dominant display in mixed weather conditions at Imola to leave himself just a point behind Hamilton after two rounds.
The Briton recovered from a mid-race spin to salvage second place, but Red Bull boss Christian Horner believes it may be a sign that his team can pile more pressure on Hamilton, thus capitalising on the seven-time world champion's mistakes.
Speaking in his latest Red Bull column, Horner said: "It has to be said that Lewis was extremely fortunate, a sentiment I'm sure he would echo.
"The red flag, which was caused by his teammate, allowed him to un-lap himself after his own accident when he would have been effectively out of the race for a podium finish.
"But it was a very strong comeback drive by him and Mercedes once again showed great race pace, so you can see there is not a lot in it at the moment.
"We will try and put as much pressure on Lewis in his title defence as we possibly can.
"He made a fundamental error when he went off which is easy to do in those conditions but after Max's victory, he still leads the championship thanks to the single point he won for setting the fastest lap in the race.
"So, if the next 21 races are as exciting as the first two, then it is going to be an epic season."
---