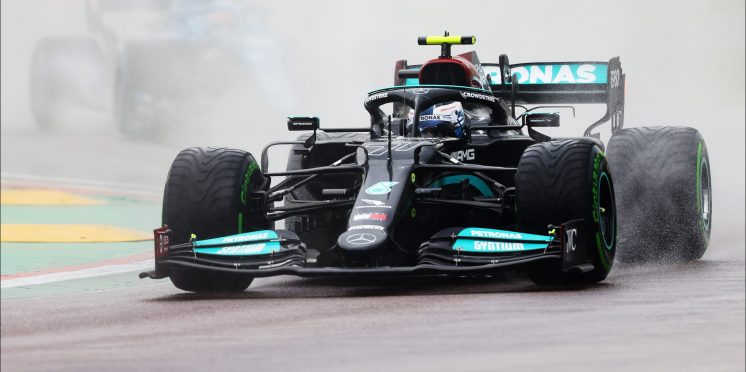 Mercedes: Bottas' power unit damaged 'beyond repair' in Imola crash
Mercedes has revealed a large part of Valtteri Bottas' engine is damaged "beyond repair" after a post-race inspection from his high-speed accident at the Emilia Romagna Grand Prix.
Bottas collided with Williams driver George Russell on the approach to Tamburello at close to 200mph, resulting in a hefty impact with the barrier.
The Finn was visibly shaken but suffered no injuries from the incident, although his car sustained considerable damage.
It has left Mercedes boss Toto Wolff fearing the damage could prove detrimental to the team's development amid its championship battle with Red Bull.
The Brackley-based outfit outlined its aim to have both cars in the same specification for the Portuguese Grand Prix in the wake of Bottas' shunt.
"It was a big crash, we were seeing around 30g at points in his trip around the walls and the track," Mercedes trackside engineering director Andrew Shovlin said in the team's post-Imola debrief.
"Unfortunately, the car has not done quite so well. There is a fair amount of damage to that.
"We have managed to bring a lot of it back to the UK, we got the power unit at Brixworth where that's being checked and inspected carefully and we will just pick through this and some of the bits we might be able to salvage.
"Unfortunately, quite a lot of it is damaged beyond repair and we are just looking at a logistics plan to try and be able to get sufficient parts to Portimão, which is the week after next, to make sure we can run both cars in the correct spec."
Russell apologised to Bottas for the collision having initially felt the Mercedes driver had deliberately squeezed him when defending the position.
Despite suffering its first crash-related retirement since the 2019 German Grand Prix, Mercedes left Imola still leading both championships.
---