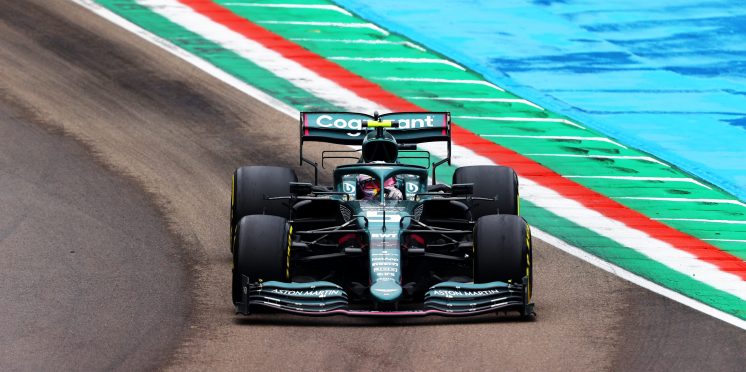 Vettel slams 'not very professional' FIA for handling of Imola penalty
Sebastian Vettel believes the FIA was "not very professional" in the way it handled his penalty during Sunday's Emilia Romagna Grand Prix.
The German received a 10-second stop/go penalty as his tyres were not fitted before the five-minute signal ahead of the start of the race.
Aston Martin was concerned over the brakes on both cars after Lance Stroll's rear-brakes caught fire on route to the grid, resulting in lengthy checks prior to the formation lap.
But Vettel's penalty was not handed out until Lap 22, with the four-time world champion frustrated at the delay of the sanction feeling it compromised his race even through he went on to retire on the penultimate lap.
"Obviously the guys tried everything on the grid and I think they did really well, they were really alert," Vettel said, as quoted by Motorsport.com.
"I think we could have had a better race if the FIA was more alert because I think we broke a rule, I guess, that is why we got a penalty, but they didn't bother until way into the race, so by that time the penalty cost us a lot more than it would have done earlier in the race.
"That is not very professional."
Formula 1 race director Michael Masi responded to Vettel's stance at the time it took to announce his penalty, saying the timing of the decision was nothing unusual.
"I don't know about taking longer than it should have," Masi said. "It was obviously reported by the technical delegate.
"Once it was reported by the technical delegate, being the paper report that he presents then appears in the document management system, was at that point that the stewards had a look at the regulations, confirmed the evidence and determined what the penalty was."
Aston Martin team boss Otmar Szafnauer said the Silverstone-based outfit was yet to get to the bottom of what caused the brakes to overheat, which forced Vettel to start from the pitlane.
"What happened was we overheated the rear brakes and the laps to the grid weren't at the normal pace that we usually go, so we didn't get the airflow," Szafnauer said.
"But even with that, we're aware of that and the settings were such that they shouldn't have caught fire, but they did unfortunately. So we overheated them but we don't know why and how."
---