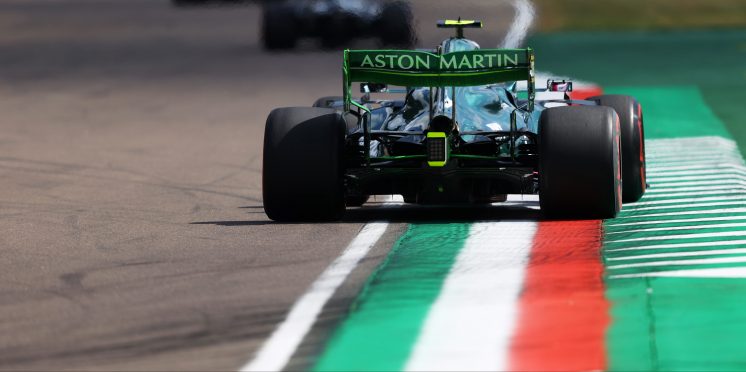 Aston Martin pushing for 'more equitable' solution to F1 floor changes
Aston Martin says it wants the FIA to consider tweaking Formula 1's new aero rules as a way of making the changes "more equitable" for all teams.
F1 introduced a raft of changes to reduce downforce for 2021, with cuts to the floor, diffuser and brake ducts.
Having adopted a low rake philosophy, Aston Martin, along with Mercedes, believes it has lost around one second of performance per lap compared to its rivals running a high rake.
Both outfits have ruled out switching to a high rake concept as it would take them a whole season to redesign their cars, plus here are strict rules limiting major car upgrades this year.
Aston Martin team principal Otmar Szafnauer is not content with how the rules were implemented by the FIA, which was pushed through on safety grounds in response to F1 tyre supplier Pirelli's decision to make it tyres more robust in light of its failures during last year's British Grand Prix.
There is also a question mark as to whether F1, as commercial rights holder, should have had an involvement in the process of changing rules for safety reasons.
Szafnauer insists a decision regarding the situation should have only been made by the FIA.
"The regulation change that was made for safety reasons, that kind of governance rests solely with the FIA," Szafnauer said, as quoted by Motorsport.com.
Pressed on the influence from F1 officials in proposing the eventual changes, Szafnauer said: "Like I said, I think that type of regulation change rests solely with the FIA. They're the experts."
Szafnauer is planning on holding talks with the FIA in the hope of finding a compromise to make the competition fairer.
"I think the right thing to do is to have the discussions with the FIA, and find out exactly what happened and why," he said. "Then we can see if there is something that can be done to make it more equitable.
"I think that's the right thing to do. We as a team have to work hard to try and claw back everything we can. But at the same time, we should be having the discussions with the FIA to make it a bit more equitable."
If a soliton is unable to be agreed on, Szafnauer admitted it would seek taking legal action.
"I think we get to that point after the discussions," he said. "It's hard to predict. I think the right thing to do is to see what can be done."
---