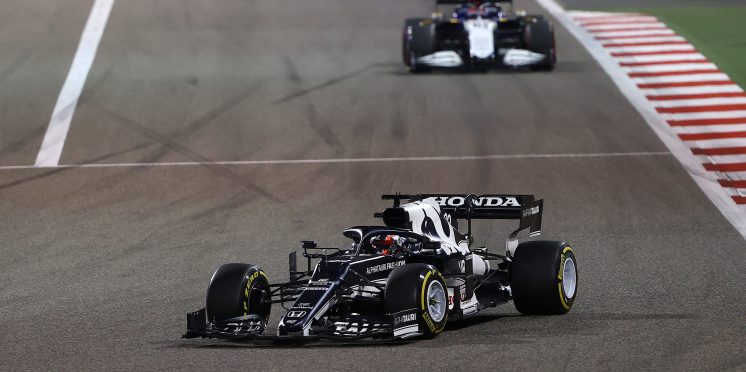 Tsuonda surprised by European fans reaction to F1 debut
Yuki Tsunoda says he's been surprised by the reaction to his Formula 1 debut in Bahrain from European fans, admitting his performance made a bigger impact in Europe than in Japan.
Tsunoda became the first driver born this century to race in F1 as he lined up on the grid at the Bahrain Grand Prix last month, with his display earning many plaudits.
Despite a disappointing qualifying that saw him miss out on a place in Q3, the Japanese driver made amends on race day as he charged through the field.
He eventually finished in ninth place to collect two points, which made him the first debutant since Stoffel Vandoorne in 2016 to score points at his first attempt.
Tsuonda's series of impressive overtakes particularly caught the eye of many, as he diced with multiple world champions Fernando Alonso and Sebastian Vettel on route to his points finish.
"It was interesting that after Bahrain, I think I got a bigger reaction from European fans than from those in Japan," Tsuonda said.
"It's a cultural thing: Japanese fans want to see what I do in a few rounds before getting a proper impression. I was surprised at that reaction in Europe.
"I didn't expect it, because for me, Bahrain was not a perfect weekend and I was hoping to finish higher. I am happy about the fans' support, but I don't feel pressure because of it, I take it as something positive and this weekend I will just get on and do my job."
Tsuonda felt his extensive testing programme and milage in pre-season testing helped him overcome any nerves in Bahrain, but the Honda junior is braced to face a sterner test when racing on circuits he's never driven before later in the season.
"I very much enjoyed my first experience of a Formula 1 race weekend in Bahrain and now I'm looking forward to the second one in Imola," he said.
"There was not so much that surprised me about Bahrain, except the large amount of media work I had to do. I was not expecting that! Of course, the race and Qualifying was new, but nothing was too surprising.
"In our Qualifying in Bahrain, I have no regrets about our strategy, because being committed to trying to get through to Q3 on the Medium tyre was a good experience and for the team it was a new challenge to try and use that tyre. I learned a lot from that, even if I had expected I could have been higher up the grid with the potential to be top five or top six.
"I was always focussed and didn't feel tense or under pressure or feel I didn't have enough time. It probably helped that we had our pre-season test at the same track. I think when we come to tracks that are new to me, like Portimao and Monaco, that will be tougher than Bahrain."
---