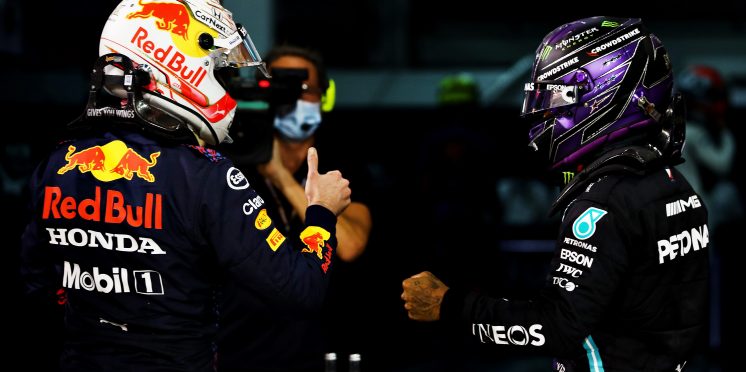 Mercedes: 2021 won't be 'easy' against 'well-focused' Red Bull
Mercedes admits this year's Formula 1 world championship will be far from "easy", despite starting the season by winning the first race in Bahrain.
The Brackley-based outfit has won the last seven drivers' and constructors' titles, but judging by Red Bull's performance in Sakhir both crowns will be under threat.
Max Verstappen secured the first pole position of 2021 by a comfortable margin, before a race-long duel with Lewis Hamilton for victory where he would ultimately fall just short.
While it edged out Red Bull for victory, Mercedes conceded it is on the back foot to its rivals as it attempts to get on top of its 2021 cars issues.
Aware of how strong Red Bull's pace was in Bahrain, the German marque is braced for a season-long battle.
"There's no doubt Red Bull operate really well," Mercedes trackside engineering director Andrew Shovlin said, as quoted by RaceFans. "They're a sharp, well-focussed team that don't make many mistakes.
"Max is clearly a very mature, very smart racer now and he's difficult. And they develop well, they've shown over every season that they've got the capacity to put a lot of performance on the car.
"So regardless of the start point, this is not going to be an easy championship. It's going to be tight and it's one that we're not going to give up on. And they're going to tell you the same."
Shovlin recalls Mercedes found itself playing catch up to Ferrari in early 2018, insisting the challenge of being the chaser is "not alien" to the team.
"I think we were four or five races in before we went to race," he said. "Some of those we didn't get everything perfect but some of them Ferrari were just better than us, race and quali.
"So we've had some tough years in the past few seasons, this is not alien to us, and it's what we've got to work with. So it is two teams that look to be pretty much neck and neck at the moment so I think it's going to be a tough year."
---