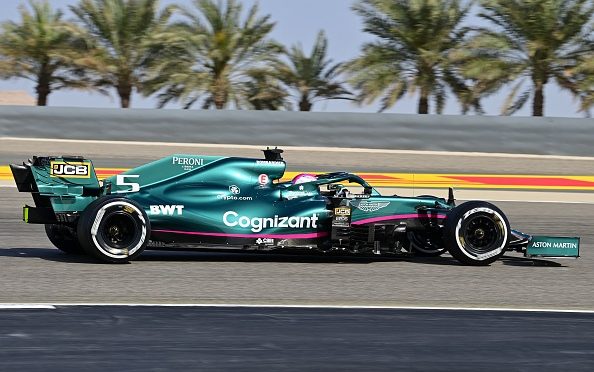 Szafnauer: Low-rake runners warned they would lose out under new aero rules
Aston Martin team principal Otmar Szafnauer says Formula 1 teams adopting the low-rake concept warned they would be at a disadvantage under the new aero rules introduced for 2021.
Despite teams carrying over their 2020 cars in a bid to save costs, the FIA approved changes to the aero regulations that would see downforce levels trimmed for this year.
Szafnauer believes the rule tweaks had resulted in his team's drop in performance having ended 2020 regularly challenging for podiums and claiming victory at the Sakhir Grand Prix.
The Silverstone-based outfit was committed to retaining its low-rake concept in 2021 that it ran on its controversial design last year that was an exact copy of the 2019 title-winning Mercedes.
At the opening race of the season in Bahrain last weekend, Aston Martin came away with just one point after struggling for pace, leading to Szafnaeur to suggest the new rules favour teams running a high-rake.
"I'm not a conspiracy theorist," Szafnauer said, as quoted by Motorsport.com. "But it was pointed out last year by the low-rake runners, that this would have a bigger effect than on the high rake runners.
"And we were correct. At the time, the regulations were being made this was pointed out."
Szafnauer was clear teams were "no where near" unanimity when it came to supporting the regulation changes.
"No. Number one, there was never a vote," he said. "Number two, there was an indicative vote. So that was just at the technical under committee [working group], that all the technical directors had to have an indicative vote, and three teams voted against it.
"You've got to remember only two teams have a low-rake concept. So even one of the high-rake teams voted against it. So nowhere near unanimity. And it wouldn't have even passed on the eight out of 10 rule. Because three voted against."
Reflecting on Aston Martin's form at the season opener, Szafnauer said: "In race conditions we were a bit more competitive than we were over one lap.
"But compared to where we were just a few months ago here, before the regulation change I mean, we've got a lot of a lot of work to do."
---