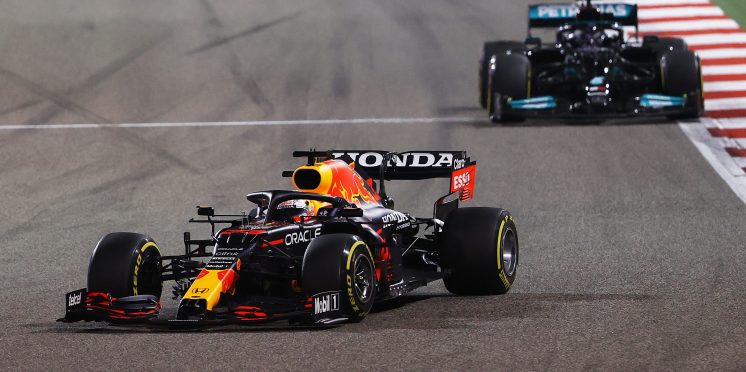 Mercedes anticipating Imola, Portimao will suit Red Bull more
Mercedes is braced for the frequent high-speed corners at Imola and Portimao to play more to Red Bull's advantage, despite winning the season opener in Bahrain.
Having gone into the first race of 2021 expecting its pre-season struggles to play out further, Mercedes proved more competitive in race trim as Lewis Hamilton held off Max Verstappen for victory in Sakhir.
An aggressive strategy and masterful tyre management from Hamilton aided his run to victory, but Mercedes is aware Red Bull has begun the campaign with the stronger package.
Mercedes trackside engineering director Andrew Shovlin admits Red Bull's 2021 challenger hasn't looked "weak at any point", suggesting it will favour the high-speed nature of Imola and Portimao better than its own car.
"I don't think we're good enough in the high-speed, and there's plenty of that in Imola and in Portimao, and that's one area where they've got an advantage on us at the moment," Shovlin said, as quoted by Motorsport.com.
"Bahrain's quite an outlier circuit – it's very hard on the rear tyres, and it's been really windy here. We've had 30/40 km/h wind, which is pretty much the upper end of what you'd see in a normal race season.
"We're certainly hoping that this is not one of our finest tracks because we've really had quite a tough time, and I think we've got the car in a decent window by the end. But it's been awfully hard work.
"If you look at Red Bull through the test, through free practice, their car just works really well. They've not looked weak at any point. Hopefully, we'll find circuits that do suit us more than this."
Although Mercedes acknowledges it is playing catch up to Red Bull this early in the season, the team believes it hasn't exploited the W12's full potential.
"What's our mindset? We still don't think we've got the best car, but we don't think we've got everything out of the package yet," Shovlin added.
"When you develop a car, there's lots of areas that you look to exploit for performance and some of them we don't think have delivered everything that they should. So we're going to be working pretty hard to bring performance to the car in the next couple of races. But I think it's going to be tough.
"With those circuits, there's elements that I think will move us in the right direction . We have struggled with the rear end here in Bahrain and those circuits are a bit easier in that regard. But high-speed is something we wouldn't be naive in thinking that's going to be strength of ours at those tracks."
---