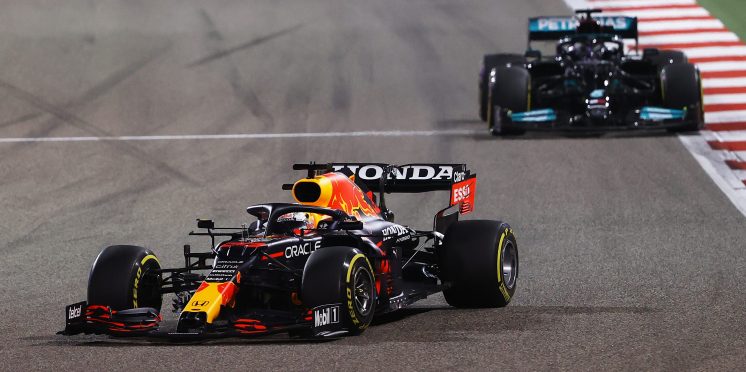 Masi: Track limit rules were made 'very clear' during Bahrain GP
Formula 1 race director Michael Masi insists the FIA's stance regarding track limits never changed during the Bahrain Grand Prix amid controversy surrounding the interpretation of the rule.
Lewis Hamilton withstood late pressure from Max Verstappen on 11-lap older tyres to secure his 96th career victory in a thrilling encounter at the first race of the 2021 season.
Hamilton's win, however, only came after Verstappen was ordered to hand the lead back to the Mercedes driver when he overtook him off the circuit at Turn 4.
Verstappen's attack on Hamilton with four laps to go saw him run all four wheels off the track and rejoin ahead, causing Masi to intervene and instruct Red Bull to tell Verstappen to relinquish the position.
The incident proved a major talking point as Hamilton was warned by race control for consistently running wide at Turn 4 mid-race, with a risk of receiving a potential time penalty.
The seven-time world champion was one of a number of drivers who ran outside the white lines on the exit of Turn 4, although it had been communicated that track limits wouldn't be policed during the grand prix.
Hamilton admitted the ruling was "very confusing" after track limits had been monitored during FP2, FP3 and qualifying resulting in a lap time being deleted.
Red Bull boss Christian Horner accepted the call to penalise Verstappen, but believed the track limit regulations should be "black or white".
Addressing the confusion, Masi explained that Verstappen had gained a lasting advantage which judged his manoeuvre to be illegal.
He stressed it was made "very clear" in the drivers briefing on Friday and in the pre-event notes that "if an overtake takes place with a car off track and gains a lasting advantage, I will go on the radio and suggest to the team that they immediately relinquish that position," as quoted by Crash.net.
"With regard to tolerance given with people running outside of the track limits during the race, that was mentioned very clearly in the meeting and the notes that it would not be monitored with regard to setting the lap time, so to speak, but it will always be monitored in according with the Sporting Regulations that a lasting advantage overall must not be gained."
Hamilton suggested that the stewards had "changed their minds" midway through the race in regards to track limits, a claim Masi firmly denied.
"We had two people that were looking in that area at every car at every lap and pretty much every car bar one was doing the right thing within what we expected in a general sequence," Masi said.
"There was the occasional car that had a bit of a moment or went out there but it wasn't a constant thing."
---