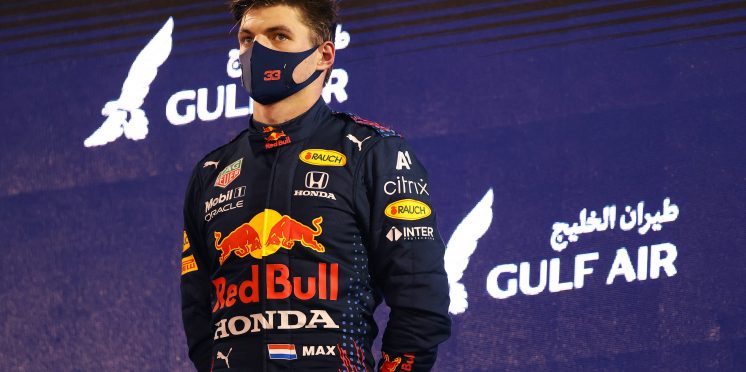 Verstappen: Losing out on Bahrain GP victory 'a shame'
Max Verstappen says losing the chance to win the first race of the 2021 season in Bahrain after a race-long duel with Lewis Hamilton was "a shame".
In a fascinating strategic battle between Red Bull and Mercedes, Verstappen and Hamilton fought for victory in a tense final few laps.
Having pitted 11 laps later than Hamilton, Verstappen reeled in the Briton on fresher tyres before using DRS to attack into Turn 4 with four laps remaining.
Although he made the move stick, Verstappen completed the pass off-track, resulting in Red Bull telling him to immediately hand the lead back to Hamilton.
The Dutchman was unable to threaten the Mercedes driver further, finishing seven-tenths shy of Hamilton at the chequered flag.
In a radio exchange with Red Bull boss Christian Horner on the cool down lap, Verstappen vented his frustration, preferring the option of keeping the position and take a potential time penalty for gaining an advantage.
"Why didn't you let me go? I could have easily got the five seconds. I prefer to lose like that than to be second like this," Verstappen said.
Horner explained to Verstappen that race control made it clear he would have to concede the place at the earliest opportunity.
Speaking after the race, Verstappen was disappointed to see a potential win slip away, but took pride in challenging Mercedes at the opening round of the season.
"It's of course a shame but you also have to see the positive," Verstappen said. "We're really putting the fight on to them and I think that's great to start the year like that."
Verstappen appeared to struggle with his tyres in the final laps as he ran wide at Turn 13 and allowed Hamilton to move out of DRS range.
"I don't know what happened there, I don't think that was completely solved the whole race in the low-speed corners," he said.
"We'll have a look at that, but overall we managed to finish the race of course, and score good points."
---