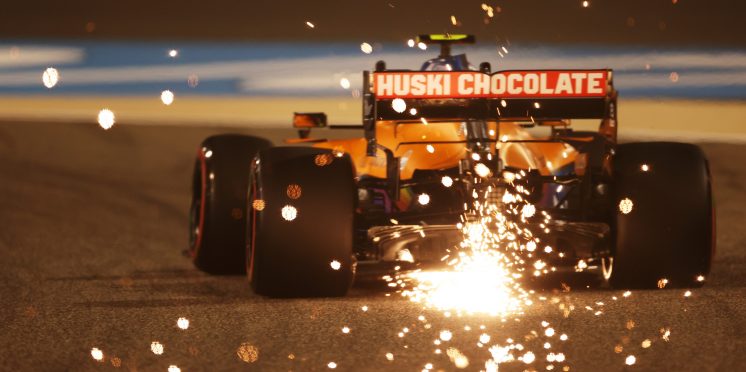 Norris downplays McLaren's pace in Bahrain GP practice
Lando Norris has downplayed McLaren's performance during practice for the Bahrain Grand Prix, saying it's "fairly obvious" it will fall behind Formula 1's usual pace setters in qualifying.
Norris set the second-fastest time in second practice, less than a tenth slower than Red Bull's Max Verstappen who topped both Friday sessions around the Bahrain International Circuit.
McLaren came off the back of an encouraging pre-season where it is generally considered to be the next-fastest team behind Mercedes and Red Bull.
But Norris gave a candid view on McLaren's Friday pace, suggesting the Woking-based outfit may have shown its hand more than other teams.
"We look quick today but I think it's fairly obvious what's going to happen tomorrow," Norris said, as quoted by The Race.
"It's going to be kind of the usual front for cars ahead of us.
"Behind, everything's very close, even if today were a little bit ahead it's because we just showed a bit more."
While Norris admitted he was a "bit surprised" by the result, he was far from happy inside the cockpit on the MCL35M.
The Briton claimed he doesn't have as much confidence as he had in last year's car, struggling particularly in the medium and high-speed corners.
"In different scenarios it feels good and in some other areas, it feels slightly worse," Norris said.
"A bit of it depends on the wind and the weather and the temperature as well, low fuel and high fuel.
"It's different areas we've got to work on and that's what we'll do tonight to try to improve.
"I don't have the confidence that I want, especially in the medium and high-speed corners. So, corners like Turn 6, 7, I made a mistake on my first lap and I had to abort because I turned in and just completely lost the rear.
"My confidence in the car isn't where I want it to be. Isn't where we had it last year. But there's also improvements in other places comparing it to last year.
"It's not necessarily that everything has to be better. There's just areas to work on and that's our job."
---