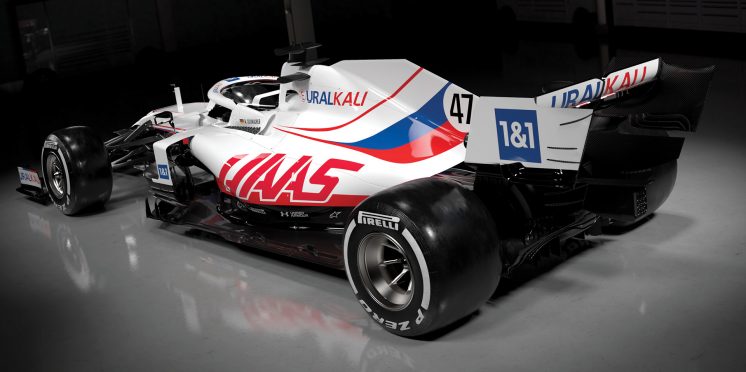 Haas reveals first images of new-livered VF-21
Haas has released the first images of its 2021 Formula 1 car featuring a revised livery and new title sponsor in Russian backer Uralkali.
The American-owned team suffered a challenging 2020 season, which saw it score its lowest points total over a campaign since debuting in F1 in 2016.
Having regularly found itself battling for 'Class C' honours with Alfa Romeo and Williams, Haas is hoping to make strides this year and close the gap to the midfield pack.
Presenting the VF-21 in an online reveal on Thursday, Haas unveiled a Russian-themed livery on its new challenger to launch its new partnership with title sponsor Uralkali.
The company is world's largest potash fertiliser producer and is owned by Russian billionaire Dmitry Mazepin, who's son Nikita will form part the team's all-rookie line-up alongside 2020 Formula 2 champion Mick Schumacher.
"I'm very pleased to welcome Uralkali to Formula 1 as title partner to Haas F1 Team," said Haas F1 founder Gene Haas.
"We look forward to representing their brand throughout the season. It's an exciting time for the team with Uralkali coming onboard and having Nikita Mazepin and Mick Schumacher driving for us.
"It's definitely a case of all change but I'm hoping that we get back to being in the mix for scoring some points at these races. It's been a tough couple of seasons, but we've also got our eye on the bigger picture, in particular 2022 and the implementation of the new regulations."
Team principal Gunther Steiner added: "I happily echo Mr. Haas's comments, we are pleased to be partnered by Uralkali this season and beyond.
"We approach a new season with a new title partner and two new drivers, it's going to be an exciting year head – hopefully exciting only in a good way though.
"We face a year of learning with the drivers while technically we look ahead to the future. It's no secret that the VF-21 will not be developed as we focus our energies now on the 2022 car and, what we hope, will be a more level-playing field.
"We all know roughly where we expect to be this season in terms of the competition, but we must ensure we're there to capitalize on opportunities when they present themselves. But first we have to get the guys dialed in at testing.
"Time behind the wheel is short – so it'll be a steep curve, but I'm personally looking forward to seeing their development as drivers and as team members within Uralkali Haas F1 Team."
Haas has opted to ditch experience for youth in its driver line-up having decided to part company with its previous pairing of Romain Grosjean and Kevin Magnussen.
Ferrari junior Schumacher will make his F1 debut 30 years after his father and seven-time world champion Michael began his career.
The German's team-mate Mazpein scored two victories on his way to a fifth-placed finish in the F2 standings last year.
Haas has stated it will not be developing its 2021 car over the season, instead opting to shift focus on to 2022 ahead of the new regulations.
The team will also benefit from stronger ties with engine supplier Ferrari with a 'Haas hub' created as the Italian outfit's base in Maranello.
The VF-21 will break cover in the flesh on the morning of pre-season testing in Bahrain on March 12.
---