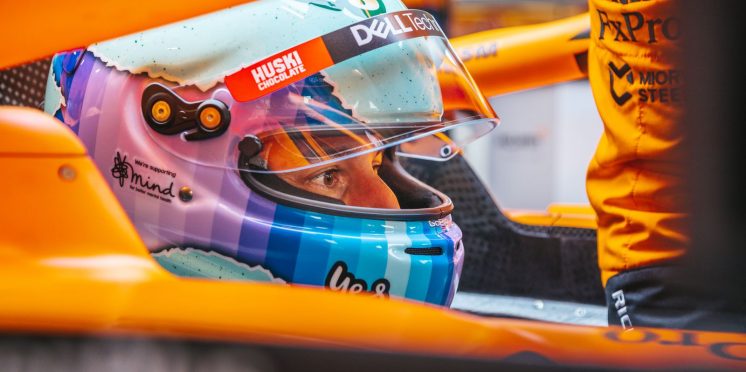 Ricciardo more open to F1 sprint races than 'artificial' reverse grids
Daniel Ricciardo says he is more "open-minded" to Formula 1 implementing sprint races rather than reverse grids as long as they don't devalue race wins.
F1 bosses are mulling over the idea of introducing select sprint races at certain events in 2021, with a view to them becoming a permanent addition on a race weekend.
A recent vote saw teams "broadly agree" to the idea being trialled at three races this year, which would see a Saturday sprint race take place in Canada, Italy and Brazil.
The previous attempt to change the weekend format with a reverse grid qualifying race failed to gain support due to concerns it was an unnecessary gimmick.
Speaking about sprint races, Ricciardo said he is "less scared" that it will jeopardise F1, but hopes it doesn't remove the emotion of winning a grand prix.
"At first, I was a little apprehensive. But I do feel better at the thought of that, certainly, than a reverse grid," Ricciardo said, as quoted by Motorsport.com.
"So I think, ultimately, if the best guys and the best teams are still coming out on top, and it's kind of not manipulated or artificial, so to speak, then I'm less scared of it.
"Competition is obviously what I love most, so I would love to do more races and less practice or whatever. So it kind of does go towards probably what I want.
"But I think the biggest thing is I want an F1 win to still feel as big as what it should be. I don't ever want an F1 win to feel diluted, or just somewhat lower than what it should.
"So if they do bring in another race on the weekend, as long as it kind of carries the same value, then I guess I'm certainly more open-minded towards that."
While some share Ricciardo's view on sprint races, there is also scepticism from other drivers who feel the change goes against F1's DNA.
F1 head of race promotions Chloe Targett-Adams responded to these concerns insisting preserving F1's DNA is being taken into account despite the potential alterations to the format.
"What is absolutely key is the integrity of the sport in the DNA," she told the BlackBook Motorsport Virtual Summit. "So in changing format, we make sure we don't lose that because that's not going to work for the teams, the fans, for our wider commercial partners and promoters.
"I think the sprint race concept that our motorsport team, working with the FIA and the teams, are obviously in discussion around is a very interesting way of looking at updating the format while still preserving the DNA of the sport.
"Obviously there are details that they're working through now that with a view to looking at having that rolling out at three races this year."
---