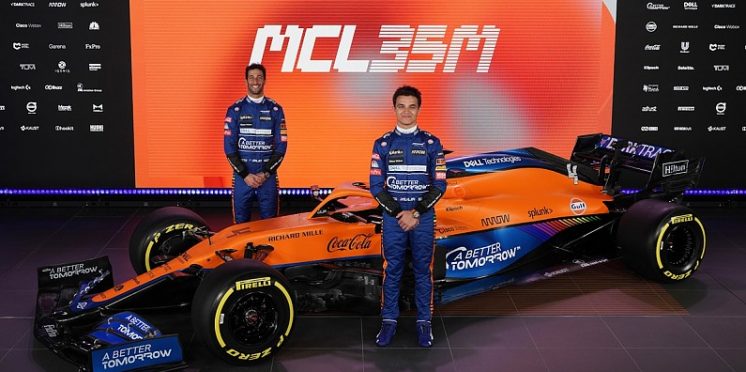 Ricciardo: McLaren switch has come at the right time
Daniel Ricciardo has talked up McLaren's Formula 1 chances in 2021, saying he's excited by the direction the team is taking following its recent resurgence.
Ricciardo's latest career move sees him make the switch from Renault to McLaren on a three-year deal, replacing Ferrari-bound Carlos Sainz at the team.
The move coincides with McLaren's decision to change engine suppliers, reacquainting itself with Mercedes power for the first time since 2014 after three years with Renault.
Speaking at the launch of McLaren's 2021 car, the MCL35M, Ricciardo believes he is joining the Woking-based outfit at the right time, with momentum firmly on its side after its third place finish in the 2020 constructors' championship.
"I feel like I'm coming here with a bunch of momentum behind the team as well," Ricciardo said, as quoted by Crash.net.
"There's really good stability in the team, infrastructure… I think when I talked to McLaren a couple of years ago in 2018, I don't think Andreas [Seidl] was there yet, James Key wasn't, so there were still quite a few moving parts.
"Ultimately, the results weren't quite there on track yet, but they were still trying to figure out their own structure and trying to establish that now. I'm basically just fitting into the puzzle as opposed to trying to put it all together.
"I'm certainly feeling good about it, hanging out to try the car, but it all feels pretty right at the moment."
Seven-time grand prix winner Ricciardo ended his two-year stint at Renault strongly, claiming two podiums and finishing fifth in the drivers' standings last year.
The Australian's move to McLaren comes amid its clear upward trajectory since its acrimonious split from Honda in 2017, as well as a series of changes to its structure, such as the appointment of Andreas Seidl as team principal.
With McLaren coming off the back of its best season since 2012, and the 2022 technical regulation changes around the corner, Ricciardo feels he's made the right choice for his career.
"We don't have a crystal ball," Ricciardo added. "Leaving Red Bull or Renault, it is what I feel is right.
"Do I know how it will turn out? I don't. But I certainly feel McLaren have done the right things to set themselves up in particular for these rule changes coming in 2022. I think that next era of F1 has the ability to certainly turn the field around a little bit.
"Everything I've seen and everything I've known up until now certainly excites me about where McLaren is heading. So it's really that more than anything. I really do believe in the personnel.
"I like Zak, and I do believe Andreas is a massive asset for the team. Andreas is really helping steer this ship in the right direction.
"James as well, I got to work with James in 2013 at Toro Rosso, and that was fairly short-lived, by that summer I was already going to Red Bull. So looking forward to getting to work with him again.
"They've got more backing as well from the end of last year, some more investment. They're expanding, I think they're doing what it takes to be a real contender in the championship."
---