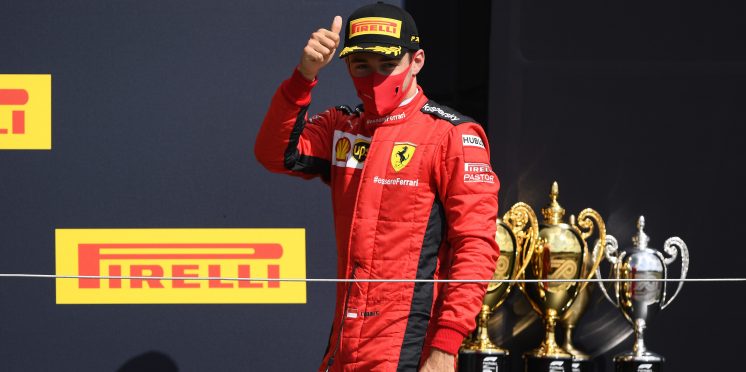 Leclerc labels 2020 season as his best in F1
Ferrari's Charles Leclerc believes 2020 was his best season in Formula 1 so far despite failing to win a race.
Leclerc earned praise for his performances this year in which he consistently outperformed Ferrari's uncompetitive 2020 car, dragging the SF1000 to two podium finishes at Austria and Silverstone.
While Ferrari recorded its lowest finish in the constructors' championship since 1980 with a sixth place finish, Leclerc finished the season with almost triple the points of his team-mate Sebastian Vettel.
The Monegasque claimed a respectable eighth in the drivers' standings, some five places higher than Vettel, whilst also out-qualifying the German at 13 of the 17 races.
Reflecting on his second year at Ferrari, Leclerc, who is contracted to the Italian outfit until 2023, considered 2020 as his best yet in terms of his personal performances.
"I think there are two sides of the season for me," Leclerc said, as quoted by Motorsport.com. "For myself I think it's my best season personally in F1. What I've shown on track, I'm very happy with my season.
"I've taken risks, that most of the time went positively, and made us gain a lot of points. On few occasions it also didn't happen the way I wanted and we've lost few points.
"But I think on the other hand, the season has been very positive for my own performance. So that I'm very happy [with], and now I'm looking forward to next year to see how much of a gain we will have."
Leclerc praised the way Ferrari handled a tough campaign, admitting it was "very difficult to accept" its position early in the season, but felt the team has taken valuable lessons that will enable it to come back stronger in 2021.
"After Barcelona testing, I think we all knew that something was not quite right," Leclerc said. "I think during the season, even though it was very difficult to accept the situation after the first race, because the reality was obvious, we worked very hard, and we worked in a constructive way.
"And I think we improved from that moment onwards. It was small steps, but as I said, small steps in the right direction and this is not always a given in F1.
"Now, for the future, I think we've learned a lot from this season. And I think that we will only come back stronger. I hope that we can show that on track next year.
"I don't know how much of the big step we will do next year, but I'm sure that the step we will do will be in the right direction."
---