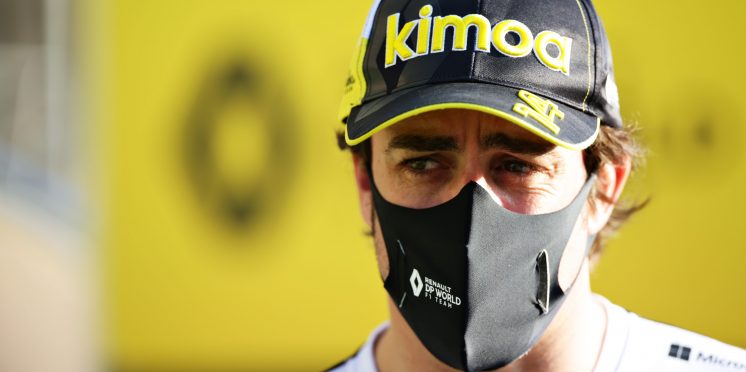 Renault adamant Alonso will have a disadvantage upon F1 return
Renault insists Fernando Alonso will still be at a disadvantage when he returns to Formula 1 in 2021 despite his comprehensive testing programme.
Alonso announced he would be returning to F1 with Renault earlier this year after two years away competing in other motorsport series.
The double world champion has stepped up preparations for his comeback by running in Renault's 2018 and 2020 cars, whilst also attending several races with the team.
Alonso was controversially granted permission to take part in the post-season young drivers' test in Abu Dhabi, which allowed him to gain extra mileage in the RS20 that will be carried over to next year.
The Spaniard topped the times around the Yas Marina Circuit, as he completed over 100 laps in the one-day test.
But when asked if Alonso appearing in the test would give him an advantage for 2021, Renault executive director Marcin Budkowski believed this wouldn't be the case.
"I think you mean how much less of a disadvantage does he have? Because he hasn't been driving for two years," Budkowski said, as quoted by Motorsport.com.
"I understand that for Carlos [Sainz] or Daniel [Ricciardo] changing teams next year and getting accustomed to a different team is tricky.
"There's lots to learn, different ways of working, different engineer, but in the case of Fernando he hasn't been driving for two years at all.
"So, this is why we're trying to give him some track time and also some track time on the 2018 car just to get him back in the rhythm, get him back in the physical condition, the neck and things like this, which he needs."
The decision to reduce the amount of days in winter testing from six days to three means drivers will have limited running prior to the first race in Australia.
Although Alonso has a vast amount of experience under his belt, Budkowski believes the fewer days of testing will only make his comeback more challenging.
"Yes, it's going to be tricky for Fernando to get used to the car in one and a half days of testing, but I think even more so because he hasn't driven for so long."
---