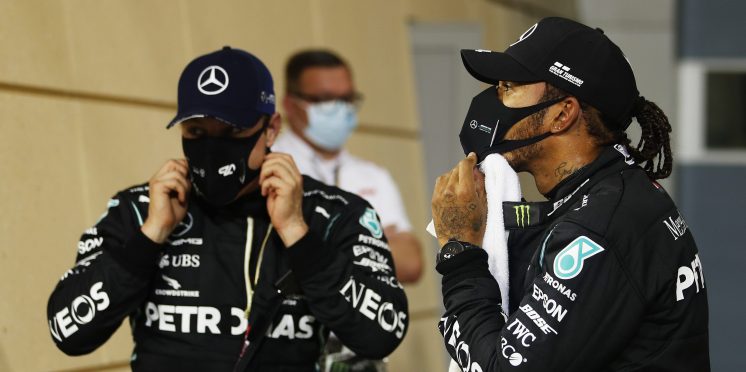 Bottas: Deficit to Hamilton in Bahrain F1 qualifying 'confusing'
Valtteri Bottas says his deficit to Mercedes team-mate Lewis Hamilton in qualifying for the Bahrain Grand Prix is "confusing" after feeling he extracted "everything" on his Q3 lap.
Bottas has found himself on the back foot to Hamilton over the weekend, trailing the seven-time world champion throughout the qualifying session.
The Finn was forced to fend off Red Bull's Max Verstappen, who had pipped him in the opening runs in Q3, eventually bagging a front row slot, albeit just under three-tenths shy of Hamilton.
Asked where the time to Hamilton had been lost, Bottas said: "I don't really know, actually. It felt good, that's the problem, when it feels good, you feel like you're extracting everything out of the car but the lap time is not there – that's the most confusing part.
"I cannot say more at the moment, there were no mistakes and on the last lap I thought it was really good. It's like small things here and there, there's not one clear corner. I need to find out but, at least, it's another front-row lockout for us."
Bottas downplayed suggestions he'd had a problem with his Mercedes, optimistic his long-run pace will allow him to challenge Hamilton for victory in Sunday's race.
"I don't think there's any underlying issue, really, with the performance of the car," Bottas said. I think it's there, the long runs were good, so I'm looking forward to tomorrow."
Bottas revealed he and Hamilton have gone in a different direction on set-up, as he aims to secure his third victory of the 2020 season.
"Obviously, it wasn't enough for pole, so I was quite surprised the gap to Lewis," Bottas said.
"I think we ended up with quite different setups with Lewis, let's see if that makes a difference tomorrow. But he's had a really good weekend, overall, every session.
"I have the feeling I definitely have the speed, but I haven't really been able to get it all out. I thought I had got it all together at the end but, obviously, it wasn't enough."
---